Apple's Maps app has created another huge problem, apart from being mediocre at best and not very useful to locate places. This time, it has created a 'potentially life threatening issue' for motorists in Victoria, Australia. The local Police issued a warning asking people not to use Apple Maps and has even contacted Apple.
The problem here, is that Apple Maps provides incorrect location information for Mildura and has been directing a number of motorists to a location that is about 70 kilometres south of the location. This has caused people to get stranded in the middle of the Murray-Sunset National Park with no food, water or phone reception and temperatures as high as 46 degrees. Some have even been stranded for 24 hours, walked kilometres just to get phone reception and the Mildura Police have been assisting them.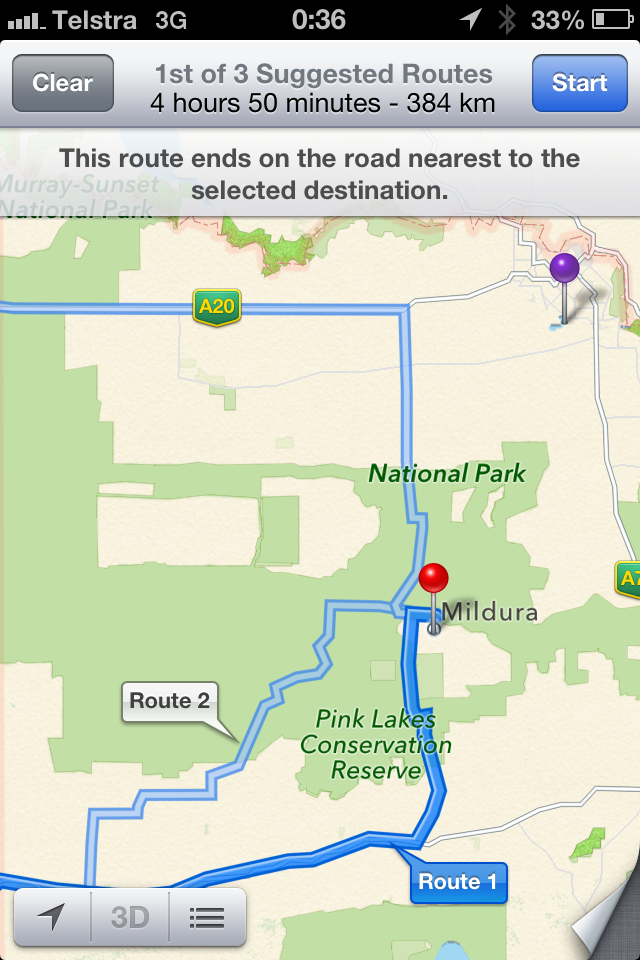 Apple's Maps app in iOS 6 has been facing criticism and complaints from the very first day of its release. The company decided to ditch Google Maps and instead design their own Maps app in iOS 6, which didn't exactly work out very well for them. Tim Cook, Apple's current CEO, even posted an apology letter to all iOS 6 users for all the trouble caused by the new Maps app. In a recent TV interview, Tim Cook also stated that they're doing everything they can to fix the Maps app. It looks like the efforts to fix up the Maps app are only being done in the U.S. Below is the full Press Release by the Victoria Police Authority:
Mildura Police are urging motorists to be careful when relying on the mapping system on the Apple i-phones operating on the iOS 6 system after a number of motorists were directed off the beaten track in recent weeks.

Local Police have been called to assist distressed motorists who have become stranded within the Murray-Sunset National Park after following directions on their Apple i-phone.

Tests on the mapping system by police confirm the mapping systems lists Mildura in the middle of the Murray Sunset National Park, approximately 70km away from the actual location of Mildura.

Police are extremely concerned as there is no water supply within the Park and temperatures can reach as high as 46 degrees, making this a potentially life threatening issue.

Some of the motorists located by police have been stranded for up to 24 hours without food or water and have walked long distances through dangerous terrain to get phone reception.

Police have contacted Apple in relation to the issue and hope the matter is rectified promptly to ensure the safety of motorists travelling to Mildura.

Anyone travelling to Mildura or other locations within Victoria should rely on other forms of mapping until this matter is rectified.
The Mildura Police are asking motorists travelling to Mildura or other places in Victoria to use other mapping services, and not Apple Maps. They've also contacted Apple and are hoping to solve this issue as soon as they can. Let's see what Apple has to say regarding this matter, as this is pretty serious.