Despite all of Androids impressive numbers on market domination and all that, iOS is still leading in terms of mobile internet usage. Fortune has shared an interesting report based on a recent survey by NetMobileShare that shows that iOS users are more likely to browse the internet on their devices than Android users. That's pretty interesting, especially because the Android device market share is almost double than that of the iPhone.
Below is a chart that shows how much more of a lead does iOS have over Android in Internet Mobile share.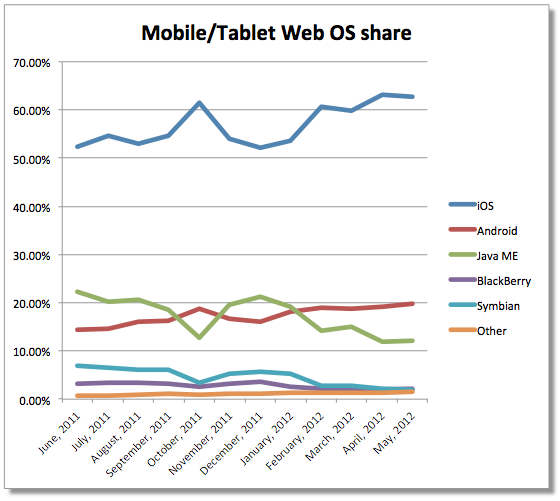 Both iPhone and iPad are doing great, whereas the Android army isn't doing all that well. iOS and Android are followed by Java devices, BlackBerry and Symbian. The survey was conducted over a period of 12 months (using statistics such as 160 million visitors per month) to show that iOS devices rose from 52.4 percent in June 2011 to 62 percent in May 2012. Android web OS usage went from 14.3 percent to 19.7 percent. iOS users continue to access the web a lot more than Android and that should keep Apple on top for many years to come.