Today news comes from a personal blog that someone has received a response from an Apple engineer who claims Apple has no intentions on bringing Siri to older Apple iOS devices. In the past we have mentioned that as Siri is currently in a beta state, Apple may roll out Siri to older Apple iOS devices once Siri comes out of this beta status. Now, however, this looks like it will not be the case.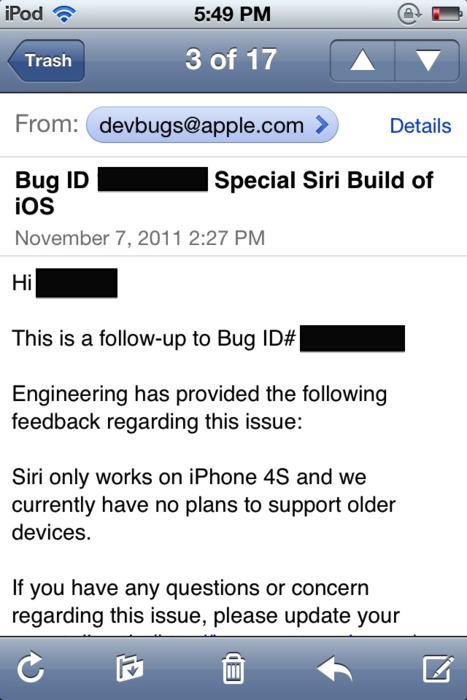 You see, apparently an individual tried contacting Apple with a bug report, suggesting an optional build of iOS with Siri included, available as a paid upgrade:
Bug Title: Special Siri Build of iOS
iPhone 4 Users and iPod touch 4th generation users pay a fee of 19.99 to upgrade to a 'special' build of iOS 5.0.1 with Siri Final in it, (To avoid hackers hacking Siri onto non 4S devices illegally) **Many iPhone 4 Users and iPod touch 4th generation Users will pay for this special iOS build (5.0.1) which will enable Siri for a fee of $19.99 US dollars
When an Apple engineer read this email he responded:
Engineering has provided the following feedback regarding this issue:
Siri only works on iPhone 4S and we currently have no plans to support older devices.
Though we may not see Siri officially released for older generation iOS Apple devices, it will only be a matter of time before someone releases instructions on how to port a fully-functioning version of Siri to your iPhone 4, 3GS, iPod Touch or iPad. We will keep you updated if we hear anything else, until that time please stay tuned…