Yesterday, Apple's Maps app in iOS 6 was said to cause some major trouble to motorists in Victoria, Australia. People who used Apple's Maps app to get to Mildura City were taken to a location about 70 KMS away from the actual location. The local Police issued a warning telling motorists not to use the Maps app, as it showed the wrong location. They also contacted Apple to resolve the issue as soon as possible. Apple didn't officially respond to this, but have silently corrected their Maps app to show the correct location for Mildura City.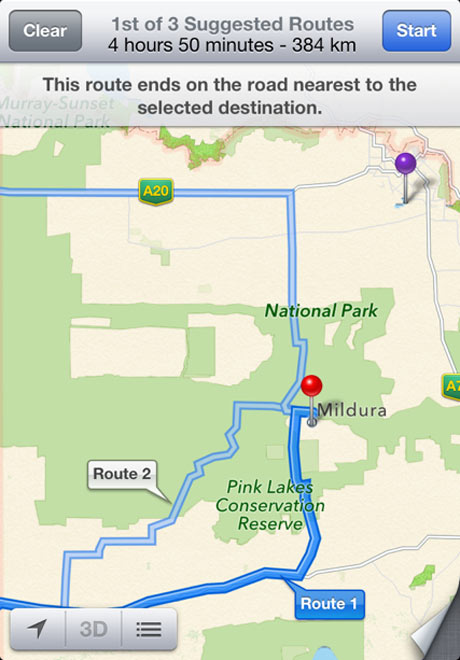 As the local Police reported, up to four people were stranded in the Murray-Sunset National Park, which is where Apple's Maps showed Mildura to be. This area is known to have scorching temperatures of 46C, no water supply, food or phone reception. A certain motorist was stranded in this area for about 24 hours before he was rescued. The issue has now been solved and the Maps now shows the correct position for the city.
The Guardian pointed out to the update late yesterday, following the widespread talk about this issue on the internet. Apple's Maps has been the target ever since its release with iOS 6. Of course, in places like the United States, the mapping service works well and is actually better than Google's Maps in terms of data consumption. However, for the rest of the world, the problems with wrong locations and omitted places still exist. CEO Tim Cook promised that they're working very hard to improve the Maps and apologized for the trouble caused.
Update #1: It looks like this error was not Apple's fault. According to The Register:
In this case, the Australian Gazetteer – the authoritative list of 300,000-plus placenames, complete with coordinates – includes two Milduras. One is the "real" town, the other is an entry for "Mildura Rural City", coordinates -34.79724 141.76108. It's this second entry that points to the middle of the Murray-Sunset National Park, just near a spot called Rocket Lake.