Tim Cook Now Has The Highest CEO Approval Rating In The World
Many people were worried when Steve Jobs first stepped down from his position at Apple. What would the future hold for Apple without its prominent leader? Who would take over? According to Glassdoor, a company that surveys employees anonymously to see how they feel about their company leader, the co-founder of Apple had an incredible 95% approval rating from his employees before leaving.
When Tim Cook first took over, we were unsure how the new boss would do. And although Tim Cook has done a brilliant job so far, we admit that no one expected this. The current CEO of Apple's approval rating has actually surpassed that of Steve Jobs'. Tim Cook now has an approval rating of 97%, higher than any other CEO rating in the world.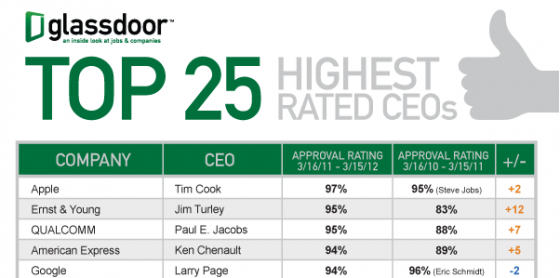 We think it's well deserved, as he has really stepped up to the plate and delivered. He has been building credibility for the Cupertino company in the past several months, taking the company's stock market share to the highest value it has ever been. He has definitely made the right moves so far.
Will he keep it that way? We sure think so, as he was trained well by our beloved Steve Jobs. What do you think of Tim Cook's performance so far?
[Via 9to5Mac]
Make sure you stay subscribed through our social media feeds, so that you never miss a beat, by liking us on Facebook, following us on Twitter and joining our circle on Google+.
Hey, you! Join the iJailbreak Insider for weekly newsletters, Jailbreak alerts, contests and more. (No spam, we promise)