Apple has announced that it will be holding its financial earnings call for Q4 2013 on October 28th at 2pm Pacific / 5pm Eastern.
Generally the press release comes about half hour before the call, which will also be streamed in a live audio webcast.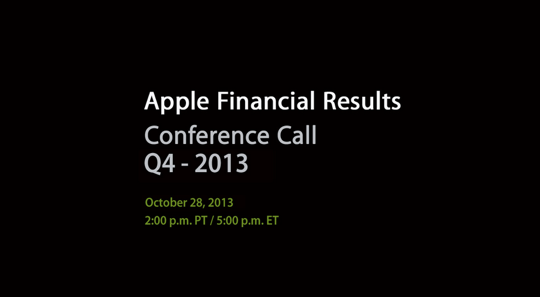 Apple's Q4 2013 results will only include ten days worth of iPhone 5s/5c sales because it ended on September 30th. Considering the opening weekend Apple sold over 9 million new iPhones it is sure to be an impressive quarter. In fact, Apple even upgraded its quarterly guidance due to strong iPhone sales saying it will be on the high end of its previous predicted range of $34 billion to $37 billion.
It will be interesting to see how AAPL shares respond to fourth quarter earnings considering they seem to be slowly recovering from a recent slump after hitting a high of over $700 per share in 2012.
We will keep you posted on when Apple releases its Q4 earnings, until that time stay tuned.