If you head over to Amazon's homepage, you'll be greeted with a giant Kindle Fire HD vs iPad Mini ad. The ad is titled 'Much More for Much Less' and lists all of the strong points of the Kindle Fire HD and how you can get all that for just $199. Yes, the iPad Mini is priced more than any 7-inch tablet, but Apple has its reasons.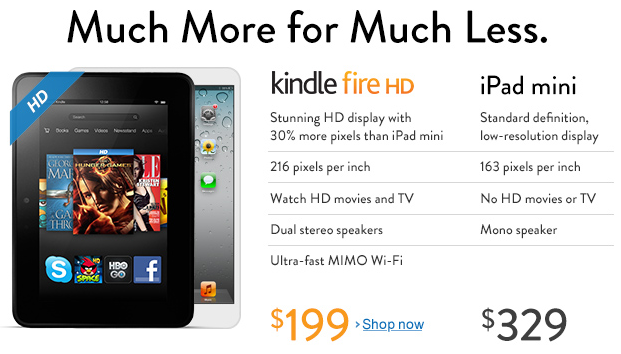 The 7-inch tablet war is on, thanks to the newly introduced Apple iPad Mini. It's as though before the release of the iPad Mini, no-one really cared much about 7-inch tablets. And now everyone's taking about 7-inch tablets. Amazon, Google, and Samsung have all been in the 7-inch tablet game, but only the Kindle and Nexus 7 have seen success. Apple unveiled the iPad Mini last week, started pre-orders on the 26th and has already depleted its pre-order stock.
Amazon recently stated that they have sold more Kindle Fire HD's after the release of iPad Mini than ever before. Now they're using this ad to show people how much more they're getting for just $199, opposed to the $329 you'd have to spend for an iPad Mini. The Fire HD has a better screen, may have better sound, but the iPad Mini has a slightly larger display and over 250,000 apps. And after all it's Apple, so they are obviously going to charge you more.
What are you getting for the holidays? A new iPad Mini or the Kindle Fire HD?