Adobe/OSX Lion "Non"-Issues
On Wednesday, July 20th, Adobe posted a tech note on their website under the title "Known Issues with Adobe products on Mac OS 10.7 Lion". They shed no light on any information aside from descriptions of the issues, which were plentiful. Adobe stated that the issue affecting most programs was "Flash Player" and that OS X Lion had possibly removed support for hardware acceleration of "Flash Player" content.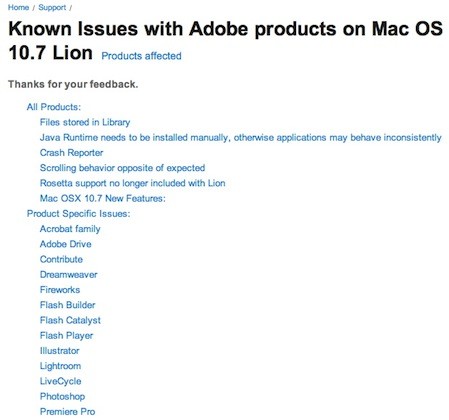 However, yesterday, July 21st, on the "Adobe AIR and Adobe Flash Player Team Blog" a correction was issued. Titled "Correction regarding hardware acceleration of Flash Player on Mac OSX Lion", the post states:
The previous "Known Issue" described in a tech note suggesting that video hardware acceleration was disabled in Lion was incorrect and based on tests with a pre-release version of Mac OS X Lion that related to only one particular Mac GPU configuration.
We assume all parties to be happy with the outcome, as the post retains 0 comments it's clear not many users, if any at all, even paid attention to the "glitch".  If the first statement released by Adobe had proved to be true, it could have been a dramatic event for Lion, which has had an unprecedented first few days.
For all the latest and greatest on anything and everything Apple, keep your screen glued to iJailbreak.com. Enjoy!
Make sure you stay subscribed through our social media feeds, so that you never miss a beat, by liking us on Facebook, following us on Twitter and joining our circle on Google+.
Hey, you! Join the iJailbreak Insider for weekly newsletters, Jailbreak alerts, contests and more. (No spam, we promise)