The iTunes Store is celebrating its tenth anniversary this month and to celebrate Apple has created an interactive timeline where you can browse various milestones from historic iPod releases to artists and albums that have topped the charts year after year.
There is 10 tabs in total representing each year starting with 2003. Obviously the first milestone is the birth of iTunes that started on April 28th with 200,000 songs priced at $0.99 each. Apple stated that the top-selling song that day was U2′s "Stuck in a Moment" and that over 1 million songs were sold in the first week.
As you browse through each of the tabs you will encounter other big milestones for the fruit company such as the iTunes international rollout in 2004, the sale of the billionth song, the announcement of 40 billion app downloads and much more.
As mentioned previously Apple has also included the top-selling songs and albums of each year in the 10 tabs. In 2006 for example, the top selling song was Bad Day by Daniel Powter and the top selling album was How to Save a Life by The Fray.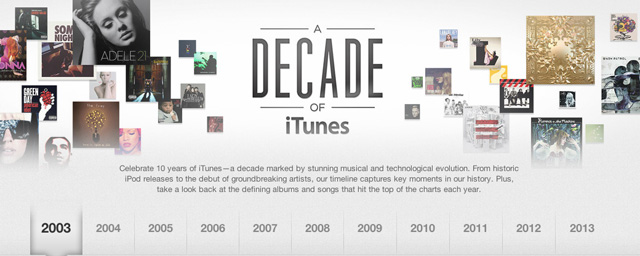 Despite starting out as more of a jukebox application, iTunes is now one of the biggest retailers for digital media that includes songs, movies, TV shows, applications and Podcasts. In fact, it is America's number one music retailer and Apple made a record breaking $4.1 billion in revenue in the first quarter of this year from iTunes.
Check out the timeline for yourself and let us know what you think of it in the comments section below.