Apple recently updated the iOS adoption rate graph on the App Store support page. Earlier in March this year, the iOS 7 adoption rate was at 85 percent and now, almost four months later, it's reached 90 percent.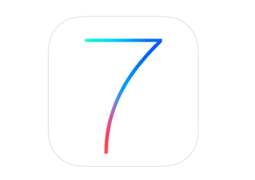 This percentage is based on the number of devices using the App Store and was measured during a 7-day period that ended on July 13th. The chart shows that 90 percent of compatible devices are running on various versions of iOS 7. This isn't a huge increase, as the percentage was at 87 percent in April.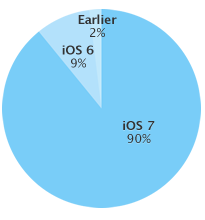 Around 9 percent of devices are still running on iOS 6 and 1-2 percent are using iOS 5 or older. I did expect the percentage climb to be higher, now that iOS 7.1.1/7.1.2 can be jailbroken. It isn't surprising though, as only a small portion of iOS users know about jailbreaking or are willing to jailbreak. Nevertheless, the adoption rate of iOS is much higher than any of its competitors and almost all the latest iOS devices can be upgraded to iOS 7.
Apple is supposed to release iOS 8 in the coming months, with the first three iOS 8 betas already out in the open. iOS 8 will bring plenty of new features and slight design changes, but still look and feel a lot like iOS 7.
What iOS version are you running on?