The new redesigned 21.5-inch iMac is finally available on the online and retail Apple stores. Apple redesigned the new iMacs and upgraded the hardware for all of its Mac products. The new iMac features Intel's latest Ivy Bridge processors and the latest Nvidia graphics. As such, someone obviously had to benchmark the new iMac to see how much better is it from last years model.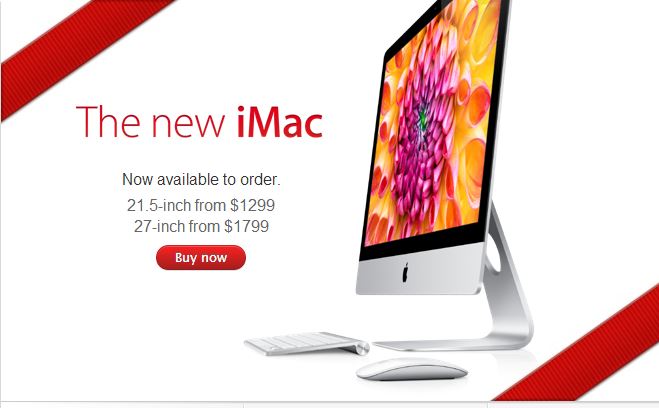 Primate Labs has performed the Geekbench test on the new 21.5-inch iMac to see how it performs. They pitted it against the 27-inch iMac (Mid 2011), the new Mac Mini (Late 2012), the Mac Pro (Mid 2012) and the older Mac Pro (Mid 2010). Both the high-end and the low-end 21.5-inch iMac with i7 and i5 processors were benchmarked. The results were quite impressive, thanks to the new Ivy Bridge processors and improved Nvidia graphics.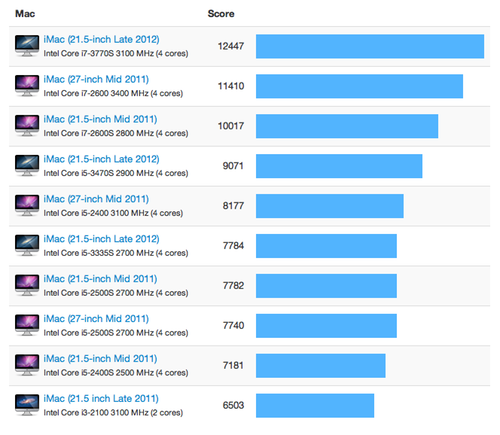 As you can see, the new iMac performed almost 10 percent better than last years high-end 27-inch iMac. This also means that the 2012 27-inch iMacs are going to have amazing performers as well. Apple has only released the 21.5-inch iMac at this time, whereas the 27-inch iMac will be available in mid-December. Because the new redesigned iMac involves a special welding technique, there are bound to be supply shortages.
Apple has truly done a great job with the new iMacs, it's faster, lighter and slimmer than previous versions. Just like the iPhone 5, iPod Touch 5G and the iPad Mini. The innards of the 21.5-inch iMac have already been examined and it is pretty impressive just how cramped for space the new iMacs are.