Did You Know OS X 10.8 Mountain Lion Watches You While You Sleep? Check Out These 13 Amazing Facts [COMIC]
Apple's latest Mac operating system, OS X Mountain Lion, recently hit the Mac App Store and users have been upgrading ever since. The OS went live on July 25th, has a lot of new features, is faster than ever before, and is available only for $19.99. We've already given you 10 good reasons to upgrade your Mac to Mountain Lion, but if you're still not sure then check out the following facts about OS X Mountain Lion.
Here are 13 amazing facts about OS X Mountain Lion that you couldn't have ever guessed or thought of. Did you know that Mountain Lion doesn't search the internet, but hunts? And the PowerNap feature in Mountain Lion has been added on purpose, so it can watch you sleep. Thanks to JoyOfTech, we now know that Mountain Lion is a real predator and all that was found of Microsoft's Steve Ballmer, was one of his shoes in a pile of scat! Below are all the 13 amazing facts about Mountain Lion.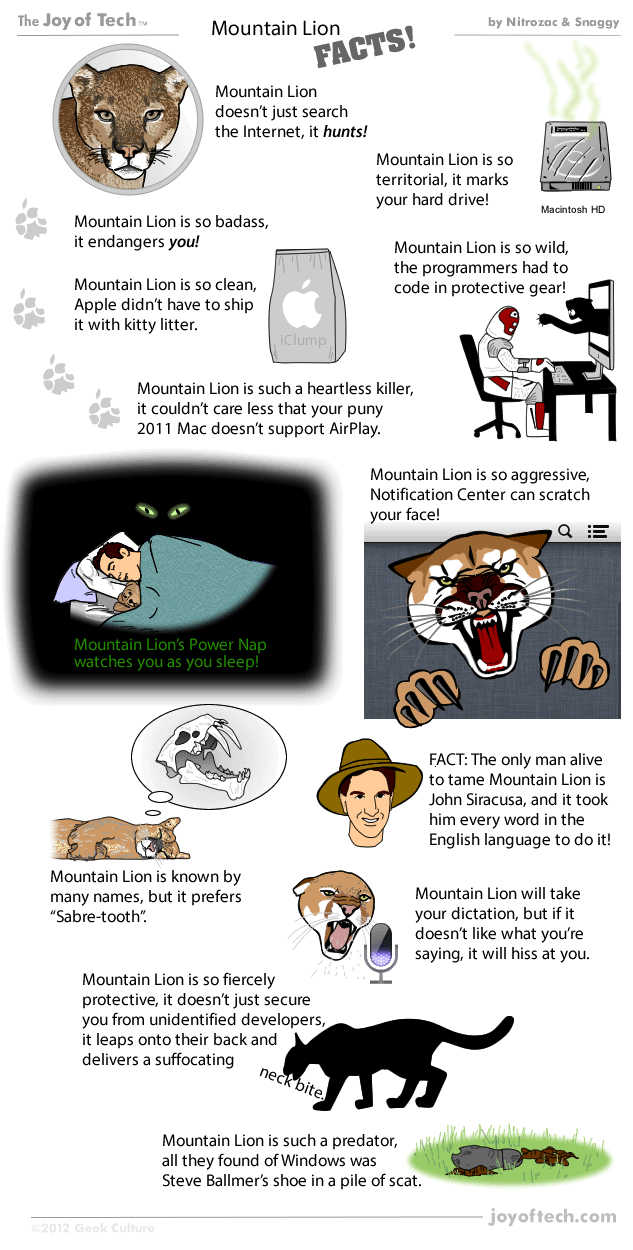 Good thing you're a Mac user huh? Still deciding whether to upgrade to Mountain Lion? Share your responses in the comments.
Make sure you stay subscribed through our social media feeds, so that you never miss a beat, by liking us on Facebook, following us on Twitter and joining our circle on Google+.
Hey, you! Join the iJailbreak Insider for weekly newsletters, Jailbreak alerts, contests and more. (No spam, we promise)