According to Apple 13″ MacBook Pro is Apple's #1 selling Mac, so it's only fitting that Apple would take that product "and introduce something better." Phil Schiller, Apple's SVP of worldwide Marketing at Apple, just announced the 13″ MacBook Pro with Retina display.
At 3.57 lbs, it's a pound lighter than previous generation MacBook Pro. Which Schiller calls their "Lightest MacBook Pro ever." Not only is it "Cooler and more capable," it's 20% thinner. As rumored it's equipped with a 2560 by 1600 Retina display screen, which works out to be just over 4 megapixels, making it the second highest resolution you can get in a laptop display, second only to it's 15″ counterpart. It's insane that its competitors haven't caught up to Apple's Retina MacBook.
In addition to the display, the MacBook Pro will be equipped with either a Dual-core i7 or i5. Unfortunately it's only equipped with Intel HD 4000 Graphics, but that may have been necessary in order to achieve its 7-hour battery life. it will start at $1699. It seems that the recent rumors about the 13″ MacBook Pro were true. (Except the price of the higher-end model, which starts at only $300 above the entry-level model.)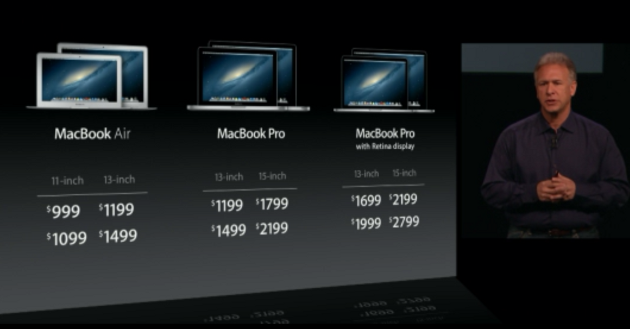 As with the 15″ MacBook Pro, the 13″ model includes Magsafe 2, 2 Lightning connectors, USB ports, a headphone, and that beautiful Retina display. That display isn't only at a high resolution, it's also been improved with what Apple claims is a 29% higher contrast ratio and a 75% reduction in glare (so you can actually see the beautiful images on screen). The 13″ MacBook Pro will also use Apple's Power nap feature to automatically update email, photostream, software, and make backups while.
What do you think of 13″ Apple's MacBook Pro with Retina? Share your thoughts in the comments section below.