Earlier this week we heard that the PlayStation 4 could be announced at Destination PlayStation taking place on February 25th and running until February 28th. Obviously Microsoft isn't going to just sit tight and let its arch console rival completely beat it to the punch as today Major Nelson (the Xbox Live alias of director of programming for the Microsoft gaming network Xbox Live) has posted a teasing countdown timer that shows how long is left until the E3 Electronic Entertainment Expo in Los Angeles. The posting of this timer has caused speculation that this is where Microsoft plans to at least unveil the next-generation Xbox — the Xbox 720.
The Xbox 720 has been rumored to feature Blue-Ray support, a six or eight ARM cores or x86 cores clocked at 2GHz each with 4GB RAM. These would be put alongside 3 PPC cores clocked at 3.2GHz each to enable backwards compatibility with current Xbox 360 titles.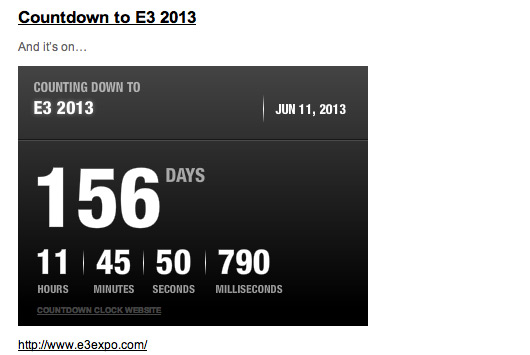 Considering that it has been over 6 years since we have seen new consoles from both Sony and Microsoft it is definitely about time. If both Sony and Microsoft released their next-generation consoles this year, which one would you be more inclined to purchase? Let us know in the comments section below.