This Is What Windows 8 Would Look Like On The Original (Giant) Microsoft Surface
Remember Microsoft's original Surface? That enormous coffee table with a huge touchscreen embedded in the top of it? That project still exists, although it's been renamed PixelSense, and the Surface name has been passed on to Microsoft's new regular-sized tablets. We haven't heard much about PixelSense recently, though, and it's unclear what the future holds for that project.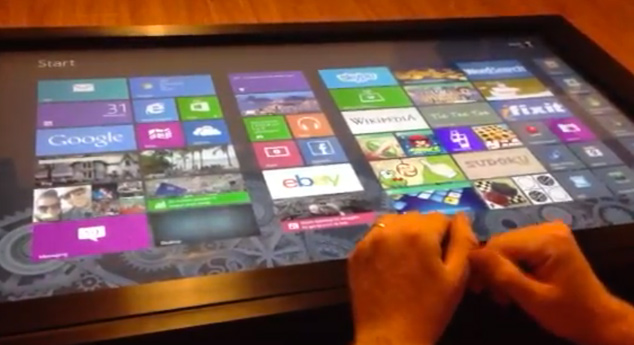 Fortunately, a brave homebrewer is keeping the dream alive, with his very PixelSense-esque coffee table contraption. He created it out of a 40-inch LCD TV, and then installed it in a coffee table with a huge touch membrane over top, and powered it with an older Core 2 Duo computer. He also installed Windows 8 on it, and miraculously, the whole thing works pretty well.
As you can see, Windows 8 runs pretty seamlessly on this giant machine! The interface appears quite responsive, and he even manages to play some games on it. The gigantic size of the display doesn't seem to prevent most apps from running just fine, and even challenging execution-based stuff like Fruit Ninja is playable. Of course, since it's just a TV screen, everything is only running at 1080p, but it's pretty cool nonetheless.
Maybe someone at Microsoft will see this, and it will inspire them to port Windows 8 to the real PixelSense.
Make sure you stay subscribed through our social media feeds, so that you never miss a beat, by liking us on Facebook, following us on Twitter and joining our circle on Google+.
Hey, you! Join the iJailbreak Insider for weekly newsletters, Jailbreak alerts, contests and more. (No spam, we promise)