Are you the owner of a shiny new Windows Surface RT and you notice that of the 32 GB you have only 16 GB of it is actually free? Don't worry, you are not alone, many new owners are realizing that half of their storage cannot be used. In response to this Microsoft has released a very nice Surface Disk Space FAQ page on their website to help address these concerns.
The Surface with Windows RT comes in either 32 GB or a 64 GB variant, however we all know when it comes to any hard drive not all of that is available for your content. Out of the box the Surface RT has the following free storage:
The 32 GB version has approximately 16 GB of free hard disk space
The 64 GB version has approximately 46 GB of free hard disk space
Looking at this, it is pretty clear why some people are a little frustrated. Using 18 GB and 20 GB of the storage out of the box is a huge amount, especially when taking a look at how well Android and iOS use their storage system to maximize the amount of free space available to users out of the box. Microsoft has included a very nice chart that shows you where this stolen space has gone however.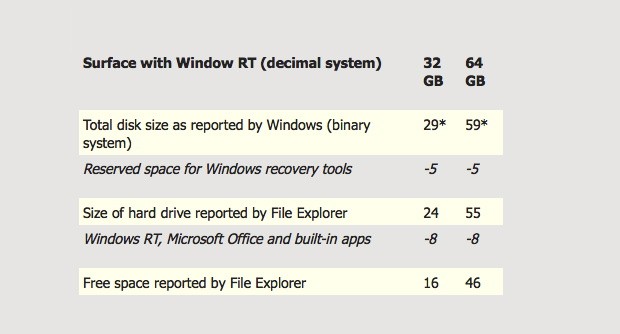 If you are curious to see how much space you have left on your Surface RT then just follow these simple steps to see it:
From the Start screen, tap or click on Desktop
Tap or click the File Explorer icon on the taskbar (appears as a file folder)
Tap or click Computer from the column on the left
The amount of storage space on your hard disk will be shown there.
However it is not the doom and gloom that some customers have portrayed it to be. Unlike Apple's iPads, the Surface does have support for expandable storage including using Cloud storage via Microsoft's SkyDrive, USB flash drive or hard drive or even a microSD, microSDHC or microSDXC memory card.
Are you surprised that Microsoft did not release this information before the launch? What steps do you take to maximize your free space on your hard disks? Share your tips with us and others in the comment section below.