Yesterday we told you that Microsoft announced its new Windows Surface tablet, and to be honest it was more impressive than I expected it to be. The Microsoft Surface tablet comes with either an ARM processor that runs Windows RT or a powerful Intel Ivy Bridge Processor that runs Windows 8 professional. Perhaps one of the most unique features of this tablet is a built-in kickstand, and integrated keyboard cover accessory.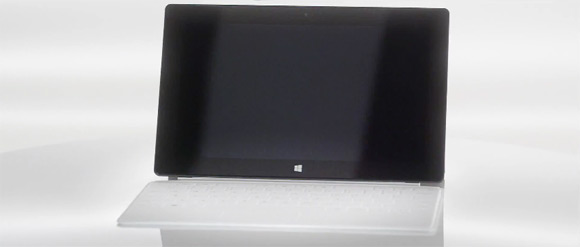 Personally I would not drop my iPad for Microsoft's new Surface tablet, but I know this new tablet will appeal to a lot of people. And I think it is safe to say that the Surface has aspects to it that make it unique from the iPad and other Android tablets, that will allow it to compete in this very competitive market.
For those that would like a more in-depth run down on the Surface you can watch Microsoft's full keynote video thanks to The Verge uploading it to YouTube.
Although pricing and availability were not mentioned we can expect the RT version to ship around the release of Windows 8 and the Windows 8 professional version to ship a few months after; all with competitive pricing of course. What do you think of the Surface? Share your responses and further thoughts in the comment section below.