With a bunch of Windows Phone 8 hardware set to launch soon, including the 8X and 8S from HTC, Microsoft unveiled a few more features of the new mobile OS today. BGR reports that Microsoft sees a lack of innovation in current mobile operating systems, and wanted to make something that focused on people more than apps.
To this end they created the Live Tiles system, which we've seen in previous Windows Phone 8 info releases. It will allow users to customize their experience to a greater degree than other platforms, Microsoft claims. Some of today's new feature announcements play into this idea, such as live lock screens that display dynamic, personalized content. If you want a lock screen that shows you sports scores in real time, you can have that. Want your Facebook photo stream instead? You can have that to. We're not sure how much of a data and battery suck a feature like this will be, but it's a cool idea nonetheless.
Speaking of data suck, another new feature in Windows Phone 8 is something called Data Sense; it's a feature that will compress websites when you load them on your mobile data, which will apparently cause you to use less data than you would loading the same web page on a non-Windows device. Microsoft says it will save users up to 45% of their data when viewing web pages. Neat.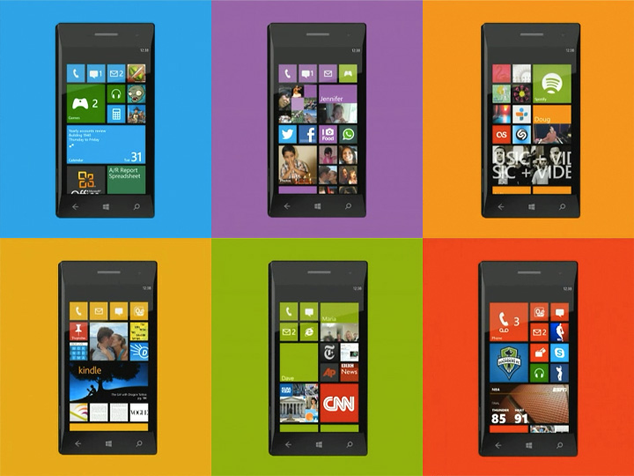 Microsoft also showed off the new People Hub, a feature that will allow you to create "Rooms" full of selected contacts, who will all be able to share content with each other. Basically, it sounds like a Dropbox shared folder, but with OS integration and a flashier interface. Dropbox shared folders are awesome, so this probably will be too.
Finally, they talked a bit about SkyDrive, and how it will be integrated into Windows Phone 8. You'll be able to sync Office documents, photos, etc. across all your Windows devices, including Windows 8 PCs and tablets. You'll get 7GB of free SkyDrive space, too, which is more than you get for free on most cloud storage services (Dropbox only gives you 2GB for free).
Don't forget to check out the official introduction video for Windows Phone 8 below…