It has become a trope at iJailbreak that if I believe a product rumor is not going to be true, it is announced or leaked within the next week. Shortly after my article on the 'Xbox Surface' was published, but not before I killed some time debating with Saurik, Microsoft announced the Surface tablet.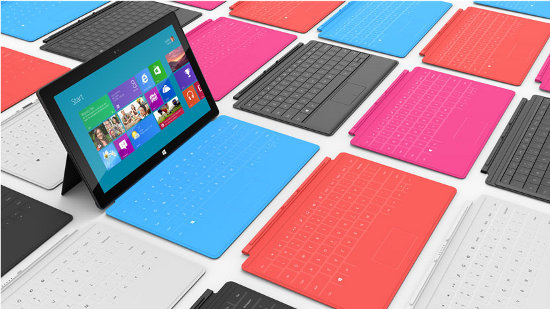 Okay, this case was actually not that big a blow to my track record. Sure, the tablet's called Microsoft Surface, but so was their impressive multitouch table from from 2008. (Now dubbed Microsoft PixelSense.) The leaks were off: The tablet Microsoft announced turns out to be 10.6 inches diagonal, not 7.0, and there is no Xbox branding on the device, nor console accompaniment.
Microsoft Surface tablet actually comes in two different flavors: One has a ARM processor and runs Windows RT, while the other is a full computer powered by an 22nm  Intel Ivy Bridge Processor and runs Windows 8 Professional. The Intel version is a little heftier, at 903 grams and 13.5 mm thickness over the ARM variant's 676 grams and 9.3 mm of thickness. The display on the ARM tablet is described as a 10.6″ ClearType HD Display, whereas the Intel tablet is described as having a "Full HD" display in microsoft's spec sheet.
Since it would be impossible to mention Microsoft on iJailbreak without mentioning Apple, I'm just going to go out and say it: it's pretty clear where Microsoft got their presentation format from, among other things. The Surface has a magnetic connector for a case/screen cover and is made of a yet another premium material (this time it's magnesium).
But to be fair to Microsoft, the surface has innovations of its own. The machine has a built in kickstand, and one of the covers features a solid multitouch keyboard, which has engravings on it that supposedly makes the keyboard more accurate than typing on glass. The Intel version a pen input device (sensitive to 600dpi), which might be of interest to graphic artists.
We will share more details about the Microsoft Surface tablet as they arise.
Would you trade your iPad in for a Microsoft Surface? Share your thoughts in the comments section below.