After airing the Surface ad on national television, Microsoft let slip the prices of its latest Surface RT tablets. Apparently, the Surface tablet running Windows RT will be available at a really good starting price of $499. That's without the cool Touch Cover though.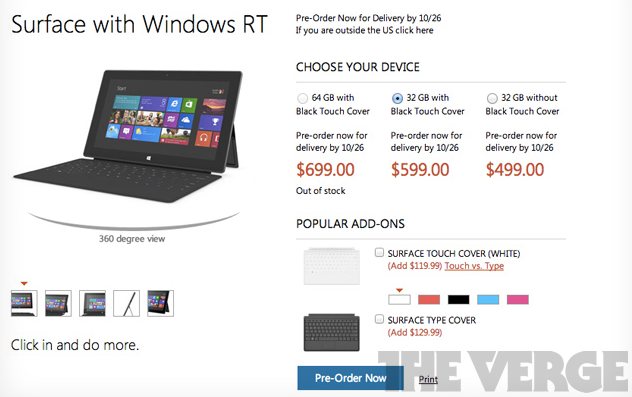 Microsoft's Surface website showed the prices of both its 32GB and 64GB models of the tablet, but has now been taken down. Once the Surface RT tablet goes on sale, the 32GB model will be available for $499 and the 64GB for $599, without Touch Covers. Add another $100 if you want that cool Touch Cover for your Surface RT. That's some really good pricing for a 10.6-inch tablet device running a full blown operating system.
The Surface RT's Touch Cover can be purchased separately for $119.99 each and the Type Cover for $129.99. The Touch Cover will be available in white, red, black, blue, and purple, whereas the Type Cover will come in black only. Microsoft's Surface RT tablet will go on sale October 26th and will be available online as well as retail stores. Will you be picking one up? Let us know in the comments.
[Via The Verge]