Why GeoHotz Lawsuit is Important to Jailbreaking
A lot of people are looking at GeoHotz lawsuit through tunnel vision. They see this lawsuit as Sony simply being controlling and wanting to ruin jailbreaking. And while this may be the case, this whole lawsuit between GeoHotz and his team could end up being a good thing. You see the thing that a lot of people do not understand is that GeoHotz is in a fairly good position right now, even though he is being sued, the premise of this lawsuit is in a real gray area.
Technically GeoHotz did not do anything illegal, his jailbreaking exploit which he made public, does allow homebrew applications/tweaks on the PlayStation 3, but it does not actually initially open up the PlayStation 3 to piracy. This aspect would need to be developed by another developer, as GeoHotz does not support Piracy. Because his jailbreak does not open the PS3 to piracy, in GeoHotz interview on AOTS, he goes on to saying the he really doesn't know why he is being sued and he thinks his lawyers will be able to adequately defend the lawsuit.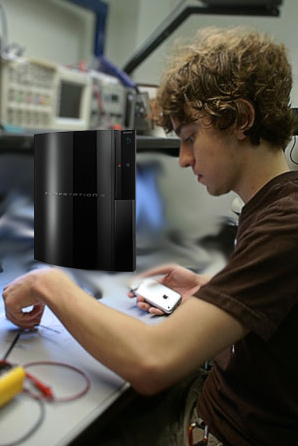 Just like GeoHotz, I have high hopes for this lawsuit, I don't see this event as being a downer for the jailbreaking community, I see potential to open up a lot of doors to jailbreaking. You see this area of modifying closed devices would still be a gray area if it wasn't for this case. Now obviously this case could very easily go both ways, but if GeoHotz goes on to winning this lawsuit it would mean that we will start to see a lot more consoles and devices being jailbroken.
Now if GeoHotz is not technically doing anything illegal how can he be sued by Sony? Even though jailbreaking the iPhone was made legal in the U.S., the section in the DMCA that refers to this states jailbreaking mobile devices is legal. It does not mention anything related to consoles or other electronic devices, meaning as we said above, this is another gray area; in which Sony is using to their advantage. Just like Apple did not so long ago…
It will be interesting to see the outcome of this lawsuit between GeoHotz and the Failfl0wteam, because this lawsuit really will make history. How, you may ask? Well let me leave you with this… If Sony wins and jailbreaking the PlayStation 3 becomes illegal, this will mean a new section will be added to the DMCA declaring this. Meaning that the only device that can be legally jailbroken will be the iPhone. If legally you can only jailbreak your iPhone, does this mean you really own your console?
Make sure you stay subscribed through our social media feeds, so that you never miss a beat, by liking us on Facebook, following us on Twitter and joining our circle on Google+.
Hey, you! Join the iJailbreak Insider for weekly newsletters, Jailbreak alerts, contests and more. (No spam, we promise)