After the new release of the latest jailbreaking tool Evasi0n, a few bugs in the Weather app are beginning to appear on people's iOS Devices. Despite being developed for weeks, having an agonising progress bar on their page, and endless beta testing and bug checking, the Weather app bug still remains after the jailbreak.
The most common weather bug on the iPad is it's existence itself. I would not object to the Evad3rs implementing a Weather app for iPad, but it is has to be run in 2x mode, and most users will find that it will begin to start crashing. MuscleNerd mentioned this on his Twitter stream, not knowing what app was appearing on iPads. He also told the masses that it was an attribute in a plist that was left out.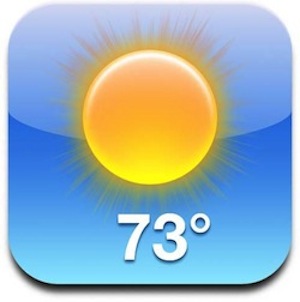 On iPhones, the Weather application is also crashing frequently which is bugging a lot of users. Thanks goes out to our followers on Twitter for pointing this one out to us!
Many iPad users are actually quite surprised and pleased to see this app arriving on their iPads, but because it crashes often it is rendered useless. I intend to try and 'FullForce' it very soon and see how it looks!
Look right here on iJailbreak for more info about the new Evad3rs jailbreak, we'll keep you posted!