Pod2g Says VulnDisco Mobile Untether Is A "Sucking Solution," Clashes With Stefan Esser (@i0n1c) On Twitter
We recently reported on InteVyDis' VulnDisco Mobile untether solution and plugin for Immunity CANVAS (if you have to ask how much it costs, you probably can't afford it). The expensive untether for A4 devices running iOS 5.1.1 was promoted on Stefan Esser's Twitter (@i0n1c). Pod2g, the developer of the imminently upcoming iOS 5.1.1 public jailbreak asked Esser: "Question is why are you promoting this sucking solution on the Internet?"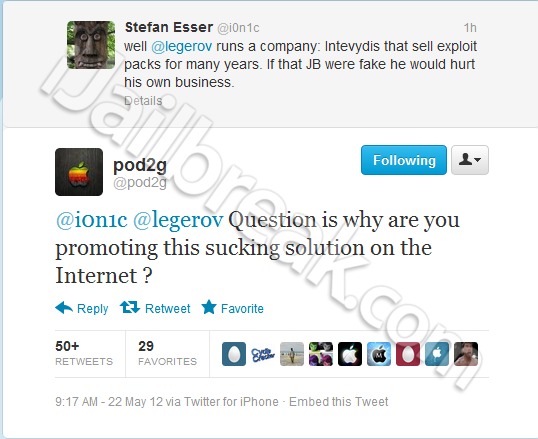 Esser, in his typical fashion, responded with a quip of his own: "It seems the old jailbreakers are really pissed that someone else did a JB and sells it before them. They seem to fear less donations."
Pod2g then clarified that his concern was the monetary price and limited scope of InteVyDis' solution (currently limited to A4 devices), and that Esser's promotion the suite intended for security professionals would confuse modders who "might buy a jailbreak because they can't wait more." (Which is unlikely, since the software suite that InteVyDis' plugin relies on costs $995 by itself.)
Ultimately this is a non-issue. VulnDisco Mobile isn't intended for homebrew enthusiasts, Esser's having a laugh at the homebrew community, and Pod2g's likely worried about confused modders clogging up his inbox with messages.
Esser's view of the jailbreak community remains cynical. He believes that nobody from the jailbreaking community will buy the untether exploit from InteVyDis because it's an expensive exploit pack (no kidding), and has "No doubt they will try to pirate it." Alternatively they could wait for Pod2g's  jailbreak which will be compatible with all iOS devices except the Apple TV 3. Pod2g's jailbreak is expected to release some time this week.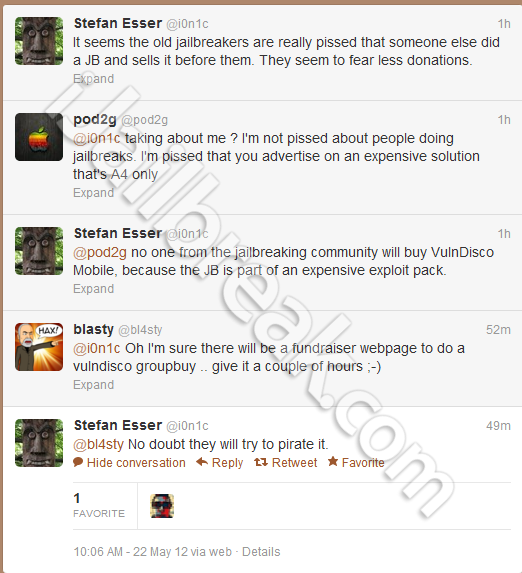 Let us know what you think of this exchange in the comments section below.
Make sure you stay subscribed through our social media feeds, so that you never miss a beat, by liking us on Facebook, following us on Twitter and joining our circle on Google+.
Hey, you! Join the iJailbreak Insider for weekly newsletters, Jailbreak alerts, contests and more. (No spam, we promise)