Last week, iH8sn0w released a new version of Sn0wbreeze that brought support for the iOS 6.x untethered jailbreak. Now, he has released a smaller update to the jailbreak tool, fixing bugs that were seen in the previous version.
Sn0wbreeze is a Windows only jailbreak tool, which can also be used to create a custom IPSW to preserve the baseband. This can be very useful for those who are unlocked on certain basebands and don't want to lose their unlock. The previous version of Sn0wbreeze had some bugs that appeared after jailbreaking, which have now been taken care of for the most part.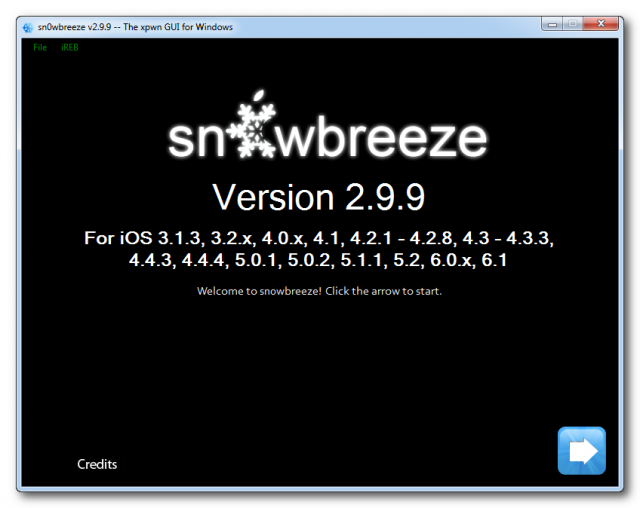 Some users faced an issue where their device wouldn't show up on iTunes after the jailbreak. Others faced issues when creating a custom IPSW for the iPhone 4 (iPhone3,2). All of those bugs have been fixed with Sn0wbreeze 2.9.9, here's the full list:
Fixed issue with device not showing up in iTunes/xcode.
Fixed bug when building iPhone3,2 (iPhone 4 GSM-Rev2) IPSW.
Apple TV 2 bug fixes.
Now adds evasi0n untether directly to Cydia (for future updates).
Remember, Sn0wbreeze is a Windows-only tool and the untethered jailbreak works only on pre-A5/A6 iOS devices. Anything with a A5 or a higher chip can't be used with this tool. Sn0wbreeze 2.9.9 also gets the latest Evasi0n untether which was recently added to Cydia. So, if you've faced any problems with the previous version of this tool, then you can download this version and correct all those issues.
You can download Sn0wbreeze 2.9.9 from the iJailbreak Downloads Section or from one of the direct links below.
Download Sn0wbreeze 2.9.9 for Windows
UPDATE #1: Learn how to jailbreak iOS 6 / iOS 6.1 untethered and preserve baseband using Sn0wbreeze on Windows by clicking here.