That was quick! The iOS 6 Gold Master was released to developers shortly after Apple's conference yesterday, and MuscleNerd of the iPhone Dev-Team has already updated the jailbreak for the 'exploitable for life' LimeRa1n-compatible devices with the new OS. Once again, supported devices include the 4th generation iPod Touch, the iPhone 3GS, and the iPhone 4. It's likely that, as with the betas, the payload for the Gold Master release only needed slight tweaking.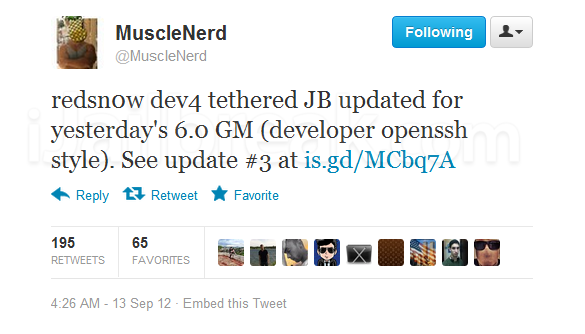 As with the betas, this jailbreak of a pre-release operating system does not have Cydia or PreferenceLoader installed. The jailbreak is intended for homebrew software developers who can install their code through SSH or AFC2.
Interestingly, the iPhone Dev Team's blog contains an explanation for the lack of Cydia: "There are some remaining issues with Cydia and fundamental modules like PreferenceLoader, so it remains an openssh-style developer-only release only for now!" This is despite the fact that developers have been able to configure Cydia to run on the beta firmware, much to the chagrin of Cydia's founder Jay Freeman.
I would hazard a guess that LimeRa1n-compatible devices will get access to the tethered jailbreak shortly after the public iOS 6 release on September 19th, complete with Cydia.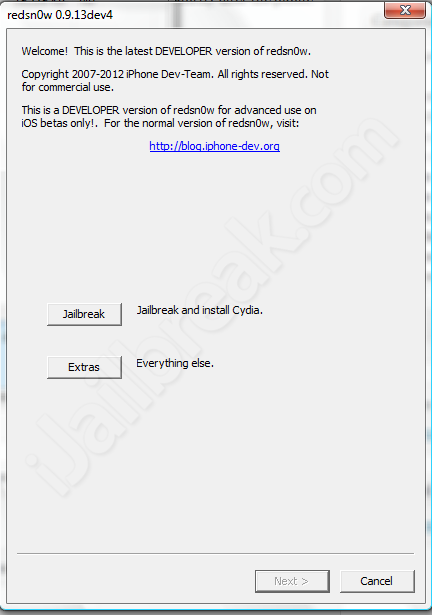 If you are interested in downloading RedSn0w 0.9.13dev4 you will be able to find a link achieved in the iJailbreak Downloads Section. Alternatively, you can use one of the download links below:
Download RedSn0w 0.9.13dev4 (OSX)
Download RedSn0w 0.9.13dev4 (Windows – Run in Administrator Mode)
Do you have access to the iOS 6 Gold Master preview for developers, or are you content to wait a week for the full public release? Share your thoughts in the comments section below.