Some companies like to throw the term waterproof around, but it most cases it ends up being just water resistant. For a device to truly be waterproof it has to be able to function underwater for a period of time. One company that takes the term waterproof to the next level is Lquipel. Last year we briefly talked about Liquipel, which is a company that will apply a molecular coating to your smartphone or tablet that makes it waterproof.
This year at CES 2013 the company has unveiled Liquipel 2.0 that claims to have "significant advancements in durability, corrosion resistance and water protection" than its predecessor. Apparently Liquipel 2.0 is 100 times more effective at maintaining component integrity and RF sensitivity, which has garnered it at least a rating of IPX7 (immersion at a depth of 1m for 30 minutes).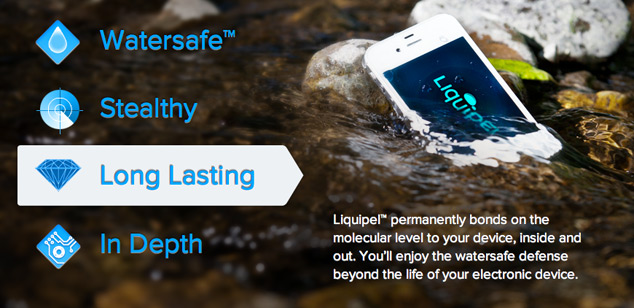 Engadget went hands on with the demo the Liquipel team had setup that let you dunk a treated iPhone 5 in 2-feet of water. The phone reportedly held up very well and while the iPhone 5 they tortured did eventually take in too much water and thus disabled the touch panel, it quickly came back to life after they shook off some of the water.
Liquipel will also be offering its 4ft x 4ft "Liquipods" for other retailers that want to provide the Liquipel treatment themselves. This could certainly expand the popularity of the service, as currently you need to send your device directly to them for it to be applied, which in most cases is inconvenient.