The reason why iOS is developers' favorite mobile platform and the most successful platform for developers is because of its lack of fragmentation. Unlike Android, where it is up to the carrier or manufacturer to provide regular updates to the latest iterations, iOS is different because updates are available for all devices since they are made only by Apple.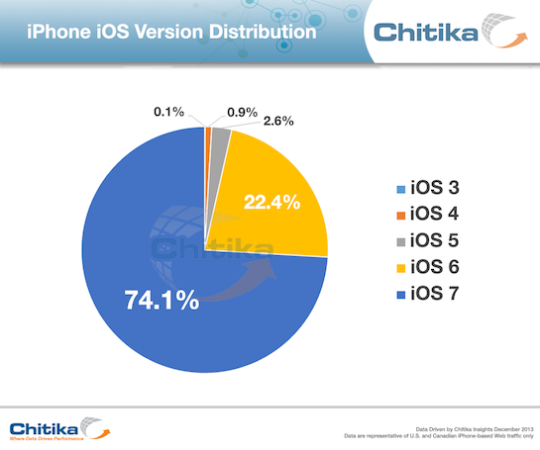 As such, whenever Apple pushes a brand new generation of iOS, like iOS 7, there is always a flock of iPhone, iPod Touch and iPad users quick to update. As a result, Chitika reports that the number of iOS devices running iOS 7 or later has already reached 74.1 percent in North America–an impressive feat to say the least, especially when you consider Google currently has 24.1% of all Android devices running the three-year-old Gingerbread version.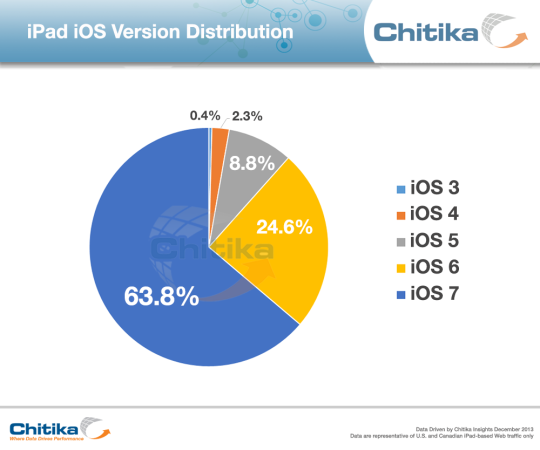 In regards to iOS though, the remaining 25.9% of iPhones continue to run an outdated iOS version: iOS 6 (22.4%), iOS 5 (2.6%), iOS 4 (0.9%) and iOS 3 (0.1%). Comparatively, 63.8 percent of iPads have been updated to iOS 7 so far.