Despite the fact that some developers have stated that they are opposed to public releases of new jailbreaks for future iOS 6 betas – due in part to the encouragement it provides for end users to pirate Apple's beta firmware – it seems that the latest developer version of RedSn0w still works with the minor revisions in iOS 6 beta 2. As with the previous version, the jailbreak is based on Geohot's limeRa1n exploit, which means it only works for A4 devices and earlier. While the exploit itself will always be good (for A4 devices and earlier), iOS updates can make the jailbreak incompatible.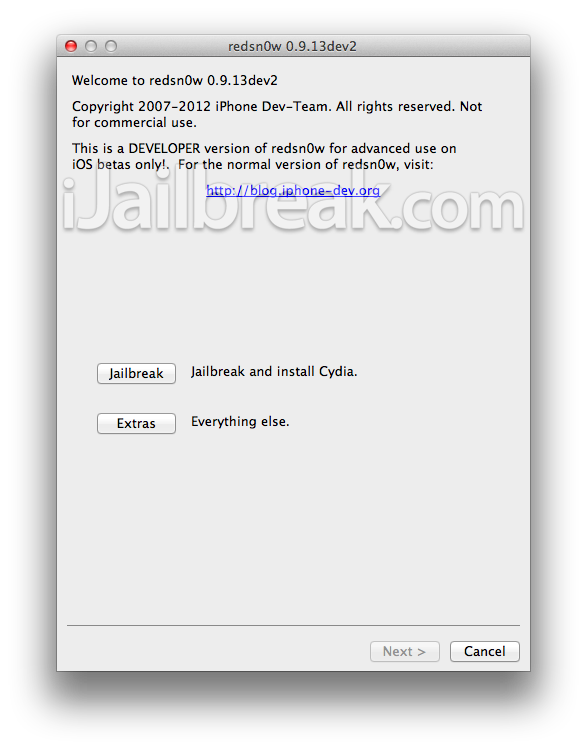 In order to jailbreak iOS 6 beta 2 you will need the IPSW files for iOS 6 beta 1 and iOS 6 beta 2, as well as RedSn0w 0.9.13dev2. This is because when Jailbreaking you will need to point RedSn0w 0.9.13dev2 to the iOS 6 beta 1 firmware even though you are actually running the iOS 6 beta 1 firmware.
Keep in mind that homebrew developers aren't supporting iOS 6. Do NOT pester any developers if your favorite tweaks do not work with iOS 6. They are not going to put in time to constantly make their software work with the rapidly changing beta firmware versions. As far as many of the developers are concerned, you shouldn't be using the iOS 6 betas.
Also keep in mind that this is still a tethered jailbreak. If your device crashes, you won't be able to turn it on until you get it to RedSn0w and select the option to "Just Boot."
Download RedSn0w 0.9.13dev2 – Windows, run as Administrator
Download RedSn0w 0.9.13dev2 – Mac
You can legally acquire the iOS 6 betas through your Apple Developer account.
Should you be jailbreaking your legally acquired iOS 6 betas? You can share your thoughts in the comments section below.
Update #1: Jailbreak iOS 6 beta 2 with RedSn0w 0.9.13dev2 guides: