As we reported earlier today, iOS update 5.1.1 is live for the iPhone, iPad, and iPod Touch. As with all OS updates, jailbreakers should wait on the upgrade until it has been confirmed to work with available exploits. In particular, jailbreak developer MuscleNerd warns users of the iPhone 4S and second/third generation iPads not to upgrade, as the developers have not worked out a hardware jailbreak exploit for A5 processors and higher. Currently we are waiting on word from Pod2g as to whether the recent update breaks any of the unreleased exploits needed to jailbreak iOS 5.1.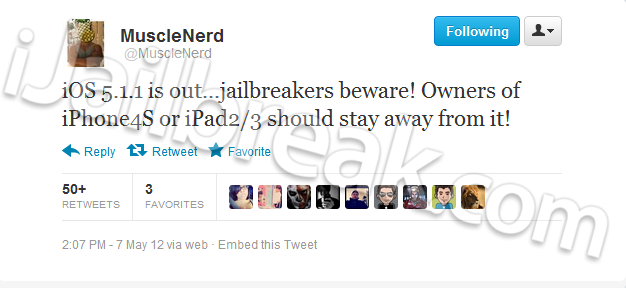 For those of us waiting, we're only missing out on minor bug fixes for iOS 5.1, such as the reliability of using the HDR option for photos taken using the lockscreen shortcut, removing false alerts from the iTunes Store, and fixes for bugs that may be affecting AirPlay video playback.
Does your iTunes keep alerting you that you can't download the Kill Bill: Volume 1 soundtrack? Will this false alert push you over the edge to abandon jailbreaking? Let us know in the comments section below.