Right off the bat, I'll warn you that this is not an official release from the creators of PwnageTool, The iPhone Dev Team. You will have to modify the software, to make this work with iOS 4. You'll have to be using a Mac to do all this, and you'll need PwnageTool 3.1.5, the iOS 4 GM firmware for iPhone 3GS (iPhone2,1_4.0_8A293_Restore.ipsw), and iTunes 9.2 (beta).
UPDATE (June 13, 2010): This will not work if you are trying to update from OS 3.1.3. You will have to downgrade to 3.1.2, jailbreak with Redsn0w, and then restore with your custom firmware.
This is going to take a bit of work, and honestly, you're probably better off just waiting for an official release. Upgrading to iOS 4 will upgrade your baseband, so if you need to unlock your iPhone to use it, stop right here. If you're skilled and/or brave, here's what you need to do to jailbreak an iPhone 3GS on iOS 4 GM:
First of all, you'll need to download a few files. I'll assume you already have iTunes 9.2, and iOS 4 GM, but you'll need 3 things to build Pwnage Tool to work with iOS 4:
Download PwnageTool 3.1.5
Download iPhone2,1_4.0_8A293_bundle.zip (this was built by msft.guy, and will be inserted into Pwnage Tool, for compatibility with iOS4 on 3GS)
Download data.tar (this will be inserted into the Cydia bundle, in the PwangeTool)
Once you've downloaded everything, unpack PwnageTool and the bundle; leave "data.tar" the way it is. Get it all to the desktop, so it's easy to work with. Right click on PwnageTool and select Show Package Contents. Navigate to Contents>Resources>FirmwareBundles. Drop in the bundle you just downloaded, into this folder.

While still in PwnageTool file system, navigate to Contents>Resources>CustomPackages>CydiaInstaller.bundle. Right click on CydiaInstaller.bundle and select Show Package Contents, then drop in the data.tar file.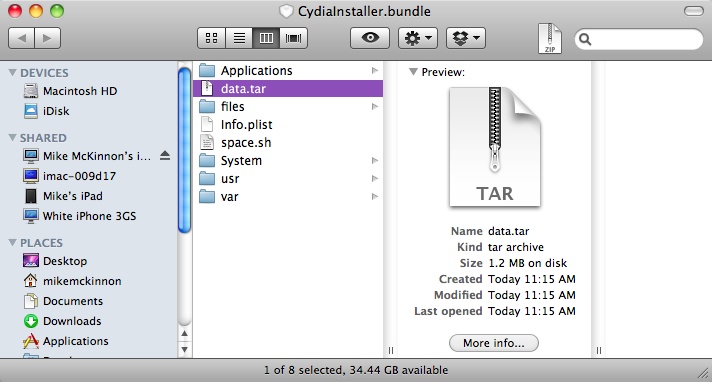 UPDATE (June 13, 2010): This last step is wrong. You need to insert the data.tar file in Contents>Resources>CustomPackages>CydiaInstaller.bundle>files. There is also one more step we forgot to mention here.
Open Terminal, and type the following commands:
cd desktop

cd PwnageTool.app/Contents/Resources/CustomPackages/CydiaInstaller.bundle/files

tar xpvf data.tar
This installs the data.tar file properly.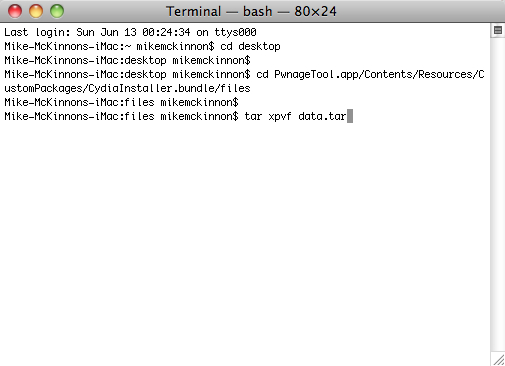 Once that's all done you can close all windows and open up your modified PwnageTool. Select iPhone 3G(s) from the device choices, and click the blue arrow. If you're iOS 4 firmware is in your iPhone Software Updates folder, you'll see it on the list. Otherwise, just browse to where you downloaded it. Select it and procede as you normally would to build your custom firmware with PwnageTool.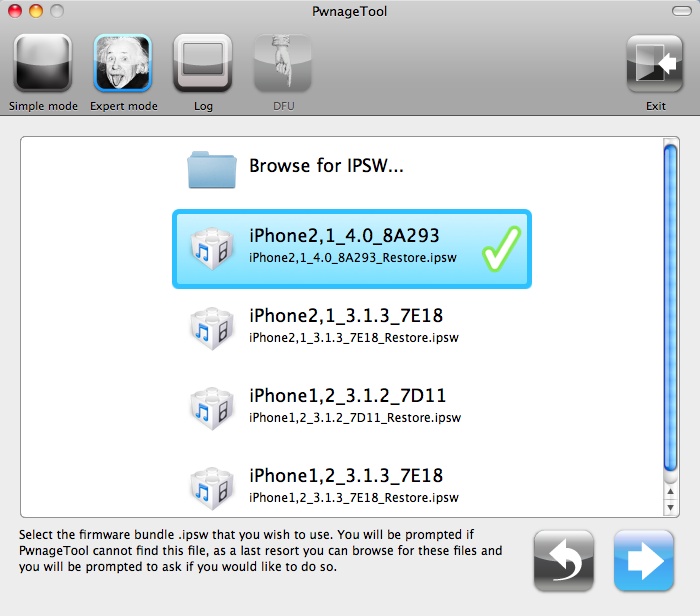 Once PwnageTool is finished, you can go ahead and restore your iPhone 3GS using iTunes 9.2 and the custom firmware you just built. I had success building the firmware, but I have not tried installing it yet. I have heard from a few folks on Twitter who have had great success with this method. You try this at your own risk.
In my opinion, you might as well just wait for the official release, as there is not much working in Cydia for iOS 4 at the moment. We should see some official releases at the end of the month, after iPhone 4 has been released.