Unless you were living in a box the last few weeks, you would have known that GoeHot is currently being sued by Sony. We here at iJailbreak.com have been providing you with constant updates through our playstation  3 section of the website on this legal battle. Up until this point GoeHot has been confident in winning this legal battle, and said he will not ask for support from the public unless he deems that it be necessary. Today it seems like GeoHot has found out that winning this legal battle is not going to be a walk in the park, and he will need the support of the public and media to move forward.
Currently GeoHot has been broadcasting updates on his official website, but he has even made a blog on this lawsuit which you can find by clicking here. This is GeoHot's official message where he goes on to asking the public and media to help fund his legal battle which has already cost him over $10,000.
Media, I need your help. This is the first time I have ever asked. Please, if you support this cause, help me out and spread the word. I want, by the time this goes to trial, to have Sony facing some of the hardest hitting lawyers in the business. Together, we can help fix the system.
Donations here are for legal defense ONLY and I have checked with my lawyers before setting this u.
Even if you are not a fan of GeoHot, you should be a fan of this lawsuit. Why? This lawsuit is so much more than Sony simply suing GeoHot. This lawsuit is going to determine whether you actually own your console or not.
Just like when you purchase a car, you are free to do what you want with it. You can modify it as you see fit, no one is stopping you. The same should apply to consoles. GeoHot modified his console (which is the same as modifying a car), does this mean he did something illegal? Obviously I think I can speak for a lot of us when I say no, what GeoHot did was not illegal, technically he bought the console so he should be able to do what he wants with it. This is what this lawsuit is going to determine – whether or not you actually own your console or not.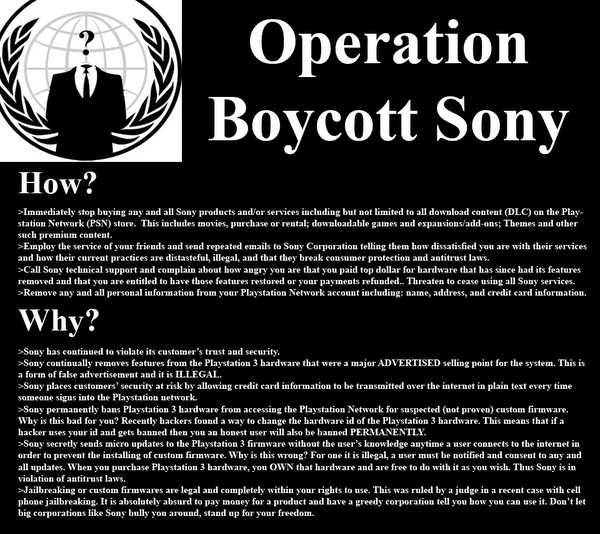 Lets face it, not everyone has the funds to support GeoHot, and no everyone is going to want to. If you do not want to donate to GeoHot the least you can do is show him your support by sharing this lawsuit with your friends and family. Hopefully if enough people can stand up, and this lawsuit gets enough attention from the media, GeoHot can win this legal battle.
My question to you is if Sony ends up winning this legal battle, what is going to stop Apple from trying to push ahead and once again try and make jailbreaking illegal? Let us know your answer in the comments section below or take this conversation further in our forums.