The iOS 7 Jailbreaking tool, Evasi0n7, has just been updated to version 1.0.1 with the latest bug fixes.
Planetbeing mentioned that you may have to clear your browsers cache if you go to download it from the official Evasi0n website.
evasi0n 1.1 has been released on the site with the latest fixes. You may have to clear your browser's cache to see it.

— planetbeing (@planetbeing) February 6, 2013
So just what kind of bug fixes are we talking about?
According to the Evad3rs this update specifically addresses an issues with the Weather app and long rebooting times after jailbreaking.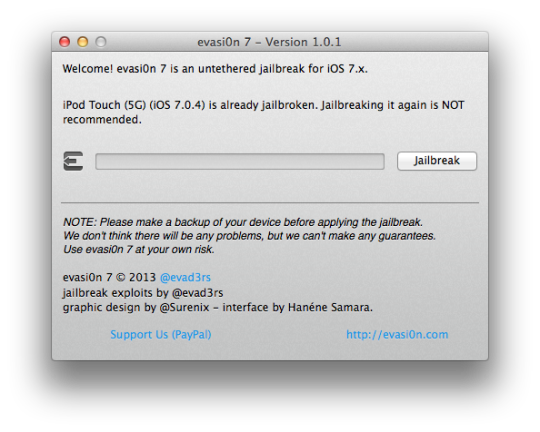 This update also removes the controversial TaiG installer for good.
If you have already Jailbroken you do not need to re-Jailbreak, the fixes will be pushed through Cydia. Those that are not Jailbroken yet can do so by following our official How To guide.
You can download Evasi0n v1.0.1 from the direct download links shown below or the iJailbreak Downloads Section.
Download Evasi0n 7 v1.0.1: Windows Download | Mac OS X Download
Let us know if Evasi0n7 v1.0.1 has solved issues you have been experiencing in the comments section below.
P.S. for iPad 2 users there are still some issues being worked out.
We still have to work on the compatibility issue with the iPad 2, but we have been busy celebrating with our family… Tomorrow probably!

— pod2g (@pod2g) December 25, 2013