Earlier this morning we taught you guys how to Jailbreak your iPhone, iPod Touch or iPad running iOS 7.0.6 using an unofficial version of Evasi0n7. Now the Evad3rs have updated Evasi0n7, however, to version 1.0.6 which supports Jailbreaking iOS 7.0.6 Untethered.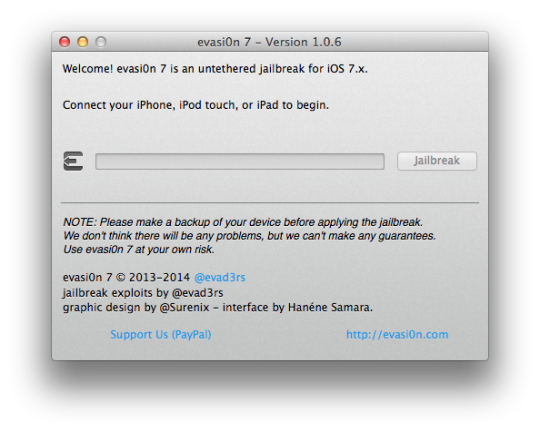 We have already updated the links in our how to guide and the process is the exact same as with the unofficial version.
So why update to iOS 7.0.6? Well it included a fix for an SSL connection verification issue, which turned out to be a major security flaw in the OS. As such it is without a doubt worth the effort of updating to iOS 7.0.6 before iOS 7.1 is released and you're stuck without this patch.
evasi0n7 with support for iOS 7.0.6 is now live at http://t.co/K3W0il1cNN

— evad3rs (@evad3rs) February 22, 2014
You can download Evasi0n7 1.0.6 from the iJailbreak Downloads Section.