It has been nearly a week since the iOS 6.0-6.1 jailbreak has been available. During this time of playing around with iPhones, iPads and iPods, it has come to the attention that on iPod Touch's notability the 4th Gen, the ability to turn on the available amount of battery percentage counter that would appear next to your battery in the top right hand corner is no longer available.
The ability to turn on this feature is normally available in settings/general/usage and if you scroll down you see a toggle to turn on 'show battery percentage'.
This is now missing…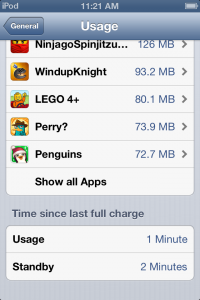 The good news is that a solution has been made through jailbreaking your device. In Cydia if you search and download the tweak called 'SBSettings' and after enter go in the new SBSettings app, then scroll down to 'System Wide Option'. After select 'System Options' then finally turn on the 'Numeric Battery' and your Percentage icon next to the battery will re-appear.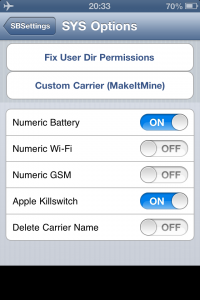 The Evasi0n iOS 6.x untethered jailbreak has had its fair share of bugs since its release, which is to be expected, considering just how technical a jailbreak really is. The first bug reported was to do with the Weather app not launching, or in the case of the iPad it was its presence that wasn't right. Then long boot and timezone issues were reported which have now been fixed. This battery percentage problem might be isolated to the iPod Touch, but at this point I am not sure.
Do you have an iPod Touch 4th Gen jailbroken on iOS 6.1 missing the percentage feature? Or do you have another 'i' device that is missing this feature? Let us know in the comments section.