The Evasi0n iOS 6.x Untethered Jailbreak has now reached the 85% marker and is getting close to being complete.  The private beta testing round is now complete and all that is left to do is test some iOS devices and firmware combinations. Planetbeing said himself yesterday that he had a good full day of testing, found some weird edge cases, but fixed them all up! He then mentioned that there is still need to test many other device/firmware combos.
As I am sure you all know, today is indeed the day the iOS 6.x Jailbreak is supposed to be released. At what time is anyone's guess, and to be honest, it could even end up being released Monday. No one really knows. It seems that the Evad3rs make anywhere from 5-10% progress per day, so if you are going by averages it likely won't be released until Monday. We will hope for the best however, because hey, Sunday is Funday is it not?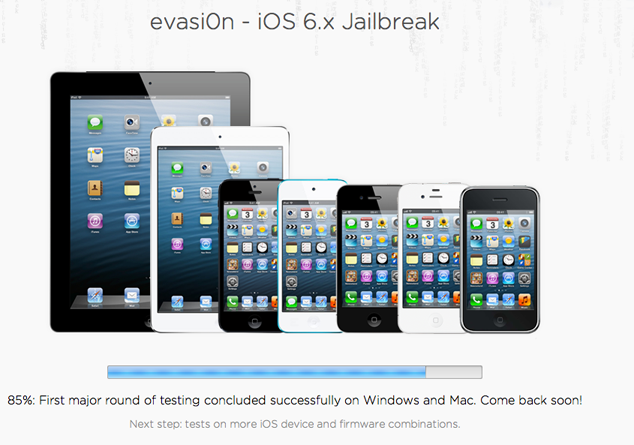 A new addition to the Evasi0n websites includes an important Read Me section. Make sure you take a moment to review the following points…
Backup your iOS device using iTunes or iCloud before using evasi0n. This way you are sure to never lose any data if something wrong happens.
Please disable the lock passcode of your iOS device before using evasi0n. It can cause issues.
Be patient while the jailbreaking process is running, don't start iTunes or Xcode in the meanwhile. The best is to not touch the computer until the end of the jailbreaking process.
Evasi0n is getting very close to being finished. We will be watching out for the official release all day today. Until that time keep your eyes on iJailbreak.