Yesterday we told you that the developer of TinyUmbrella, NotCom updated TinyUmbrella to version 5.10.12. In that new version of TinyUmbrella came support for saving your iPhone 4, iPhone 4S, and iPhone 4 CDMA BBTicket. The reason why this functionality has been implemented is because apparently it will have some significant use soon. Although this use is not known yet it could be plausible that these saved BBTickets will come in handy for a baseband downgrading solution or even a new unlock.
Today NotCom has once again updated TinyUmbrella, this time to version 5.10.14. In TinyUmbrella v5.10.14 comes support for saving the BBTicket on your iPad 3G, iPad 2 3G, iPad 2 CDMA, iPad 3 GSM, and iPad 3 CDMA. Just like before, this added support for the iPad and will most likely be used for a downgrading solution of sorts.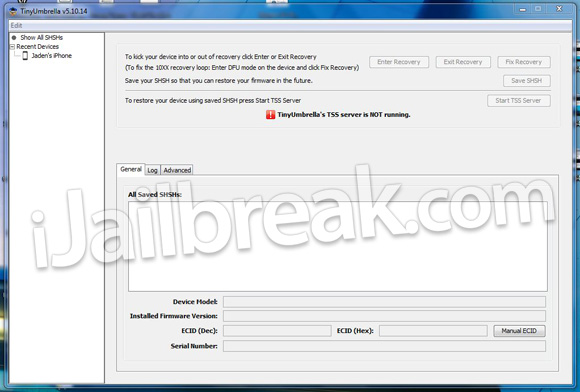 We recommend that all owners of an iPhone or an iPad save their BBTicket with this new version of TinyUmbrella by following the instructions provided by NotCom in the quoted area below…
You need to have an iPhone4 or iPad 3G or newer (4, 4s, 4 CDMA, iPad 3G, iPad 2 3G, iPad 2 CDMA, iPad 3 GSM, iPad 3 CDMA)
Go to Advanced -> Check "Overwrite existing SHSH files on "Save SHSH"
Make sure "Request SHSH from Cydia" is UNCHECKED.
You can download TinyUmbrella v5.10.14 from the iJailbreak Downloads Section or from one of the direct links below.
Download TinyUmbrella v5.10.14 (Windows)
Download TinyUmbrella v5.10.14 (Mac OS X)
Let us know if you have any questions or thoughts about this new version of TinyUmbrella in the comments section below…