TinyUmbrella was recently updated to version 5.10.00 for iOS 5.1 Beta 1 SHSH blob saving support. This means that you can now save your SHSH Blobs on the iOS 5.1 Beta 1 firmware using TinyUmbrella 5.10.00. It is important to keep in mind, however, that while you can save SHSH blobs on the iOS 5.1 Beta 1 firmware, it is not yet possible to downgrade your iDevice running any version of the iOS 5.0 firmware. You are probably asking yourself why was TinyUmbrella even updated then? Well, the reason you still want to save your SHSH blobs is very simple and obvious –  if a solution is found to downgrading on the iOS 5.0 firmware generation, you will need iOS 5.0 SHSH blobs to take advantage of it.
The developer of TinyUmbrella, @Notcom notes:
Before you ask; Yes a solution for the 5.x firmware nonce is being investigated… None of us have a working solution yet though. Hang tight.

I have a couple trails and ideas I am trying out for 4.x baseband based restores to avoid 10xx errors. Until then save your signatures as you will never know when they may come in handy…
Another interesting update coming from Notcom is a status report on TinyPwn, which is an upcoming Jailbreaking tool we have talked about in the past.
TinyPwn update: I've not had much time in the past month to work on this. Real life drama, work, etc have taken much of my time. I still intend on a release… eventually… :P Effectively it'll just have to be done when it's done…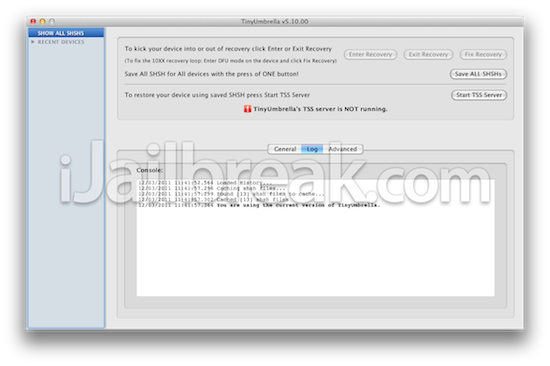 If you would like to download TinyUmbrella 5.10.00 you can do so by clicking one of the download links below or from the iJailbreak Downloads Section.
Download TinyUmbrella 5.10.00 [Windows]
Download TinyUmbrella 5.10.00 [Mac OS X]
Let us know if you have any questions or thoughts in the comments section below.