iH8Sn0w has recently tweeted that he has released Sn0wBreeze v2.9.2 to Jailbreak the iOS 5.1 firmware tethered on all A4 iOS devices. This will be some great news for all of you who would prefer to Jailbreak iOS 5.1 through custom IPSW creation. Often times this method of Jailbreaking is more geared towards unlockers or users who want to specify advanced Jailbreak customization options.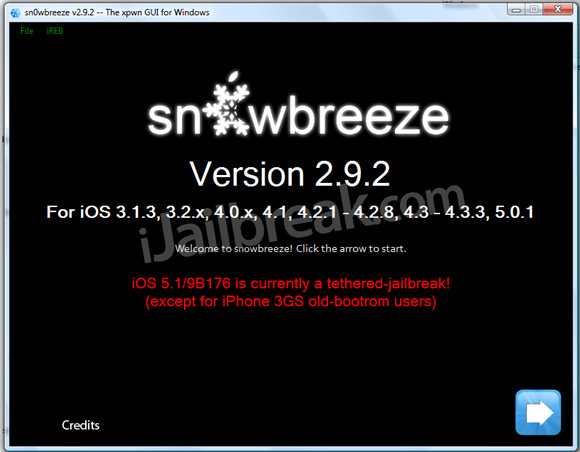 The changelog for Sn0wBreeze v2.9.2 can be found in the quoted area below.
Added Tethered Jailbreak support for 3GS/iPod Touch 3/A4 Users on iOS 5.1 (9B176)
iPhone 3GS old-bootrom users are untethered on 5.1/9B176 (as usual).
Bug Fixes (Specifically with the iPad baseband and iPhone 2G).
Re-added the iPhone Dev-Team's iPhone 2G permanent unlock 'BootNeuter'.
For those of you who are wondering why there is no support for the iPhone 4S and iPad 2 it is because a low level (DFU/iBoot/LLB) exploit is required to start the restoration of custom IPSWs. Unfortunately the last two Jailbreaks for A5 devices have been userland Jailbreaks, meaning it is not possible to carry on the exploits used for these Jailbreaks through future firmware updates.
You can download Sn0wBreeze v2.9.2 for Windows from the iJailbreak Downloads Section or from the direct link below.
Download Sn0wBreeze v2.9.2 (Windows)
We will have a how to guide available for Jailbreaking the iOS 5.1 firmware tethered with Sn0wBreeze v2.9.2 in the near future. Until that time please leave any questions or thoughts in the comments section below…