Sn0wbreeze was recently updated to version 2.9.10 to support for iOS 6.1.2 firmware on A4 devices, which include the iPhone 4, iPhone 3GS and iPod Touch 4th generation. Additionally there is a sandbox fix for the 2nd generation Apple TV.
The reason why tools like Sn0wbreeze are valuable is because they Jailbreak iOS devices by creating a pre-Jailbroken firmware file that must be restored to your device before the Jailbreak takes effect. This allows iPhone users to upgrade to a new firmware version without updating their baseband; a necessity for unlockers. It also allows advanced options to be customized such as the root partition size. You can of course also, pre-install Cydia tweaks.
Sn0wbreeze is a Windows only IPSW customization tool, with the PwnageTool being the Mac OS X alternative. Unfortunately however, the PwnageTool has not yet been updated for iOS 6.x.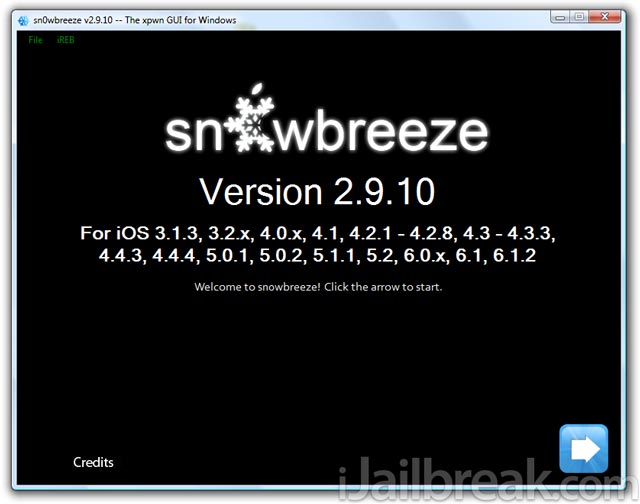 If you have an A4 device that needs its baseband preserved or needs to be hacktivated than Sn0wbreeze will probably be your best. For all other instances however, we recommend just using the Evasi0n Jailbreaking tool as it doesn't require you to restore your device.
You can download Sn0wbreeze v2.9.10 from the iJailbreak Downloads Section or from one of the download links below.
Download Sn0wbreeze v2.9.10 for Windows
A how to guide for Jailbreaking with Sn0wbreeze can be found by clicking here. Just make sure you select the iOS 6.1.2 firmware instead of the iOS 6.1 firmware.
UPDATE #1: iH8sn0w has released Sn0wbreeze v2.9.11 for Windows.
What is New?

2.9.11: Fixed bug with Cydia having "compatibility-issues" with the untether package on 6.1.2.
You can download Sn0wbreeze v2.9.11 from the iJailbreak Downloads Section or from the download link here.