If you have access to an iPhone 3GS, iPhone 4, or iPod Touch 4G and have access to an Apple Developer's account, you will be happy to know that the developers version of RedSn0w was patched to support today's release of iOS 6 beta 3. While any software will be vulnerable to Geohot's LimeRa1n exploit, it is surprising to see an update released so soon for beta 3. One of the reasons for the quick patch could be because iOS 6 beta 3 was self-described bugfix and improvement update, and did not change enough to break compatibility with the previous jailbreak implementation.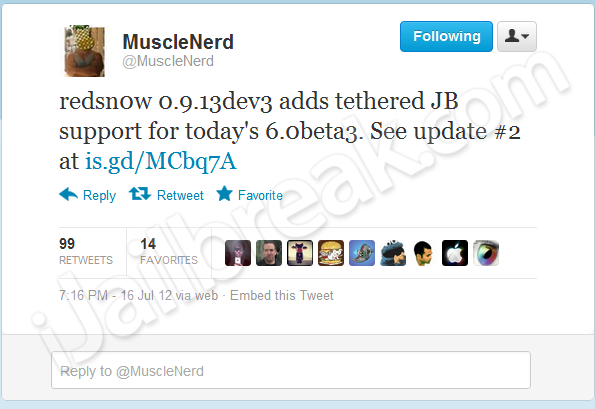 What's surprising is that the update happened at all. Back when Andrew Liu released a version of the Cydia package manager for iOS 6, Jay Freeman publicly opposed the release, with the argument that it would incite massive piracy of the iOS 6 betas. In an argument in our comments section, Freeman posted, "This means that many of us, certainly me, will now be registering a strong "no" when it comes to a public release of any future jailbreak for beta releases of iOS (and "absolutely not" for b1), whether or not Cydia operates." It seems that the desire to protect Apple from ne'er-do-wells was beaten out by the need for jailbreak software compatible with iOS 6 on day one of the official release. :)
Keep in mind that while iOS 6 has plenty of new features, it's still not a stable OS and is incompatible with many popular apps and Cydia tweaks. Don't harass developers if their apps and tweaks aren't supported yet. Also keep in mind that there are some caveats: the limeRa1n exploit will only get you as far as a thethered jailbreak, and RedSn0w will not install Cydia on your device in the betas. You will, however, be able to access your device through SSH and afc2.
If you are interested in downloading RedSn0w 0.9.13dev3 you can download it from the iJailbreak Downloads Section. Additionally you can use one of the download links below:
Download RedSn0w 0.9.13dev3 (OSX)
Download RedSn0w 0.9.13dev3 (Windows)
Should MuscleNerd and company have released continued support for the beta jailbreaks? Share your thoughts in the comments section below.