Earlier today we told you that Corona 5.0.1 Untether was updated to version 1.0-5 to fix iBooks errors and other issues effecting the stability of certain Cydia tweaks and applications. In case you did not want to install the Corona 5.0.1 Untether 1.0-5 Cydia package to your iPhone, iPod Touch or iPad to fix these remaining errors with the iOS 5.0.1 Untethered Jailbreak. You will be glad to know that MuscleNerd has recently tweeted that RedSn0w has been updated to version 0.9.10b4 to include the iBooks and Launchd fix.
For those of you who are already Jailbroken on the iOS 5.0.1 firmware untethered you will simply need to re-run RedSn0w 0.9.10b4 over your existing Jailbreak; keeping in mind that you will deselect the install Cydia option when you get to the Jailbreak options screen. If this is your first time Jailbreaking your iPhone, iPod Touch or iPad with RedSn0w 0.9.10b4, however, then simply follow one of our how to guides in our how to Jailbreak section for a previous version of RedSn0w.
Note: RedSn0w 0.9.104 is not an iPhone 4S or iPad 2 Untethered Jailbreak. The A5 Untethered Jailbreak is still being developed.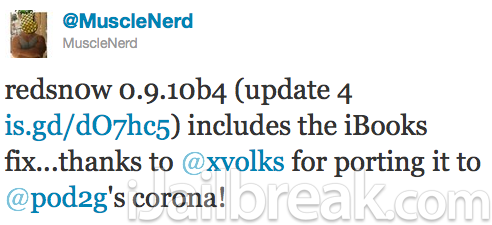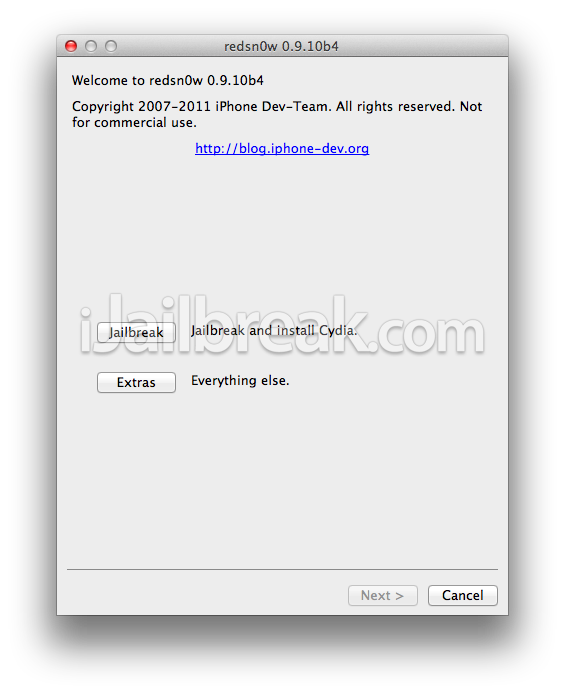 If you are interested in downloading RedSn0w 0.9.10b4 you can download it from the iJailbreak Downloads Section. Additionally you can use one of the download links below:
Download RedSnow 0.9.10b4 for Mac OS X
Download RedSnow 0.9.10b4 for Windows
If you have any questions or thoughts about RedSn0w 0.9.10b4 leave them in the comments section below…