H8Sn0w's SHSH blob saving program iFaith has been updated today to version 1.5.9. According to iH8Sn0w's official blog the tool has been updated with bug fixes and now dumps 2nd generation Apple TV blobs running the 5.3 (Built 10B809) firmware.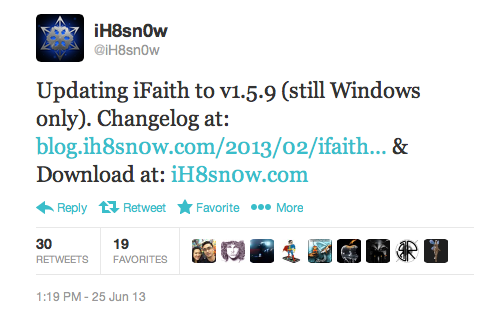 You can take a look at the complete changelog for iFaith v1.5.9 below:
1.5.9: Now dumps AppleTV 2 models running 5.3/10B809.
1.5.9: Fixed bug when when building signed IPSWs with iPhone3,2 blobs.
1.5.9: Fixed bug with apticket validation causing a client-side crash on machines not connected to the internet.
For those of you who aren't familiar with the tool, iFaith is a unique tool that saves SHSH blobs and APTickets directly from your device. This allows you to save SHSH blobs on your iPhone, iPod Touch or iPad running a firmware version that Apple isn't signing, something not possible with TinyUmbrella. iFaith also allows you to downgrade your A4 iOS device to a lower firmware version than the one it is currently running.
You can download iFaith v1.5.9 from the iJailbreak Downloads Section or from one of the direct links below. Remember that iFaith is only a Windows tool at the moment, Mac OS X users can use TinyUmbrella to save SHSH Blobs, but only firmwares that are being signed. A Mac version of iFaith has been said to be in the works, but at this point there is no ETA in sight.
Download iFaith v1.5.9 for Windows