iFaith is a unique tool that saves SHSH blobs and APTickets directly from your device. This allows you to save SHSH blobs on your iPhone, iPod Touch or iPad running a firmware version that Apple isn't signing, something not possible with TinyUmbrella. iFaith also allows you to downgrade your A4 iOS device to a lower firmware version than the one it is currently running.
iH8Sn0w has been promising an update to iFaith since mid last year, but it never saw the light of day. Today that changes however, as iH8Sn0w has released iFaith v1.5 with some major code improvements. Just what has changed? Well, pretty much everything. iH8Sn0w has essentially reprogrammed a large portion of the application, fixed bugs, added new firmware support and more.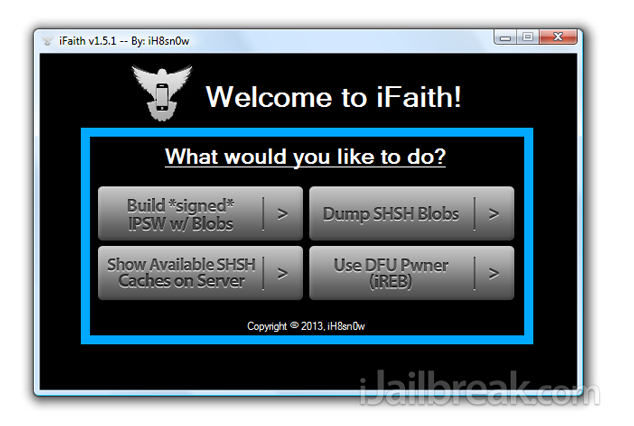 You can take a look at the entire changelog for iFaith v1.5 below…
Major code improvements.
Added Check for Update code.
Adds the ability to dump iOS 5.1.x/6.0.x/6.1 on the iPhone 3GS, iPod Touch 3, and A4 devices.
Crazy payload rewrite. (There are a chain of payloads used in this new iFaith purely dedicated to bumping up performance. iFaith should dump instantly after payload executes!).
Finally enabled 3.x.x IPSW creation for iPod touch 2G users.
Finally fully fixes NAND issues with newer models (e.g iPhone 4 8GB, new iPod Touch 4 models).
In addition to dumping your SHSH blobs, iFaith will automatically fetch SHSH blobs for the latest iOS Apple is actively signing and submits them to Cydia.
All devices [including A5(X)/A6(X)] can grab SHSH blobs for the latest iOS firmwares Apple is actively signing simply by selecting the "Show available SHSH blobs on Server" button and following the on-screen prompts. (It will submit them to Cydia as well).
Even though you may not be able to utilize the SHSH blobs you save for A5(X)/A6(X) devices at this time, you may be able to in the future (Future loopholes/exploits)!
Unfortunately because devices with an A5 and A6 chip do not have any known low level iBoot or DFU exploits it is not possible to dump SHSH blobs or downgrade. You can however, still use iFaith to fetch SHSH blobs that Apple is currently signing (at the time of writing this article it is iOS 6.1) and as long as you have SHSH blobs for the firmware version you are currently running you can re-restore to the same firmware version and not be forced to upgrade if a situation ever arises where you need to restore your device.
iH8Sn0w has mentioned that a Mac version is currently in the works, but there is no ETA available. You can download iFaith v1.5.1 from the iJailbreak Downloads Section or from one of the direct links below.
Download iFaith v1.5.1  for Windows
Keep in mind that you will need to follow this tutorial to get iFaith to run on Windows 8.