iH8Sn0w has pushed a new version of iFaith that I stumbled upon when writing the how to downgrade from iOS 5.1 guides. This new version of iFaith is iFaith v1.4.2 and at this time the changes that are present are not known. One can only assume that bug fixes and stability improvements have made their way into iFaith v1.4.2.
Now for those of you who have never heard of iFaith before, what the tool essentially does is allow you to dump the SHSH blobs on your iOS device to a file on your computer. This SHSH cache file can then be used to create a custom stitched firmware file that will allow you to downgrade to a previous firmware that Apple is not signing.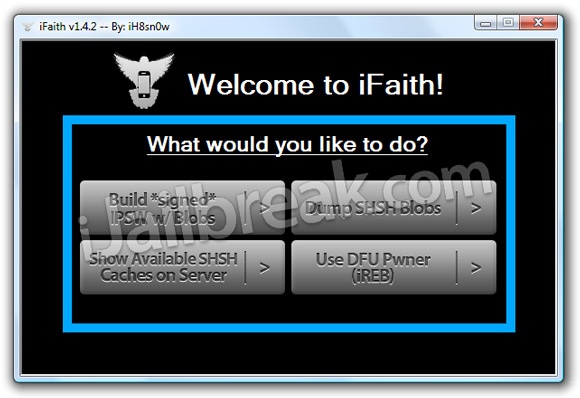 If you would like to download iFaith v1.4.2 then you can go to the iJailbreak Downloads Section or use one of the direct links below.
Download iFaith v1.4.2 (Windows)
Unfortunately iFaith is a Windows only tool and will not work on the Mac OS X operating system. Don't forget to let us know if you have any questions or further thoughts on iFaith v1.4.2 in the comments.