The Jailbreaking scene has arguably been the quietest it has ever been, in a long time. Very little is known about the next Jailbreak being worked on by the iPhone Dev-Team and Chronic-Dev, but through scattered updates over Twitter and rumors we can definitely say it is at least being worked on.
iH8Sn0w, while not releasing a Jailbreak, has updated the popular F0recast tool to version 1.4 today. For those of you who haven't heard of F0recast before, it is essentially an application that will tell you detailed information about your iPhone, iPod Touch or iPad when it is plugged in via USB. This includes its serial number, IMEI, ECID, whether it can be Jailbroken or not and much more.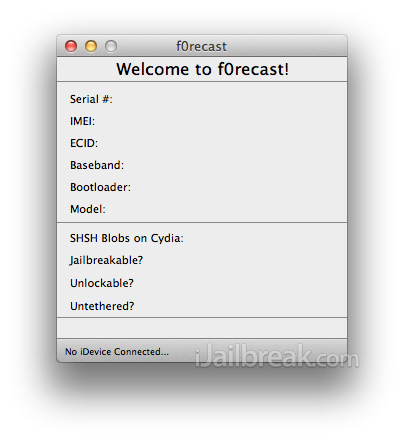 Version 1.4 of F0recast adds some new features, slight UI changes and support for the latest Jailbreak scenarios and devices. You can take a look at the full changelog for F0recast v1.4 below.
Now shows available SHSH blobs stored on Cydia's TSS server.
Provides a link to the list of firmwares available for the connected device.
Slight UI changes.
Added support for latest scenarios.
Added new devices (iPhone 5, iPod touch 5, iPad mini, etc).
Built-in update check.
Unfortunately one useful functionality that F0recast lost in this update was the factory unlock status check. iH8Sn0w has simply mentioned the removal of this feature was due to "legality issues." F0recast is not one of those tools that every Jailbreaker needs, but it is definitely worthwhile to have.
You can download F0recast v1.4 from the iJailbreak Downloads Section for both Mac OS X and Windows or you can use the direct links below.
Download F0recast v1.4 for Windows
Download F0recast v1.4 for Mac OS X
iH8Sn0w has mentioned that if you are trying to run F0recast on Windows 8 you will need to follow this guide by clicking here. Additionally, keep in mind that for those on Mac OS X 10.8 Mountain Lion, you will need to grant F0recast the ability to bypass Gatekeeper. This is done by control clicking the F0recast app and then clicking the Open option.