Apple released the iOS 6.1.1 firmware for the iPhone 4S earlier today and surprisingly it looks like the fruit company didn't patch Evasi0n's exploit just yet. As such, the Evad3rs have updated Evasi0n to version 1.3 today with support for Jailbreaking the iOS 6.1.1 firmware on the iPhone 4S Untethered.
Along with bringing support for the iOS 6.1.1 (10B145) firmware the Evad3rs have mentioned over Twitter that Evasi0n 1.3 should now correctly support Mac OS X 10.5. Linux's glibc requirement have also been lowered to version 2.3.
If you have an iPhone 4S and would like to update to iOS 6.1.1, then you can do so now. Just make sure that you update to iOS 6.1.1 through iTunes and not over-the-air, as this will cause issues with your Jailbreak. Those of you who don't have an iPhone 4S, will still be pushed an update through Cydia for Evasi0n. This can be found by launching Cydia, going into the Changes tab and then tapping the reload button (if you don't already see the update in the changes tab).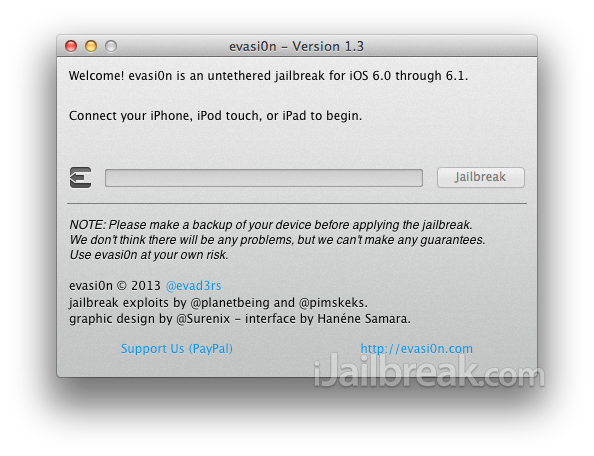 You can download Evasi0n 1.3 from the iJailbreak Downloads Section or from one of the direct links below.
Download Evasi0n 1.3 for Windows
Download Evasi0n 1.3 for Mac OS X
Download Evasi0n 1.3 for Linux
We will have a how to guide available shortly for Jailbreaking your iPhone 4S running iOS 6.1.1, but in the mean time you can check out our previous how to as the steps are exactly the same.