Last week we told you that the BlackBerry Playbook was Jailbroken. We also told you that the developers of the BlackBerry Playbook Jailbreak would release a Jailbreaking tool called DingleBerry to allow the public to Jailbreak their Playbook. If you were one of the individuals patiently waiting for the BlackBerry Playbook Jailbreak, then you will be glad to know that you can now download DingleBerry Beta 0.5.1.
The DingleBerry Beta 0.5.1 Jailbreaking tool will allow experienced Windows users to Jailbreak their BlackBerry Playbook to gain root access to the tablet. Additionally, you can SSH into the BlackBerry Playbook to access its filesystem.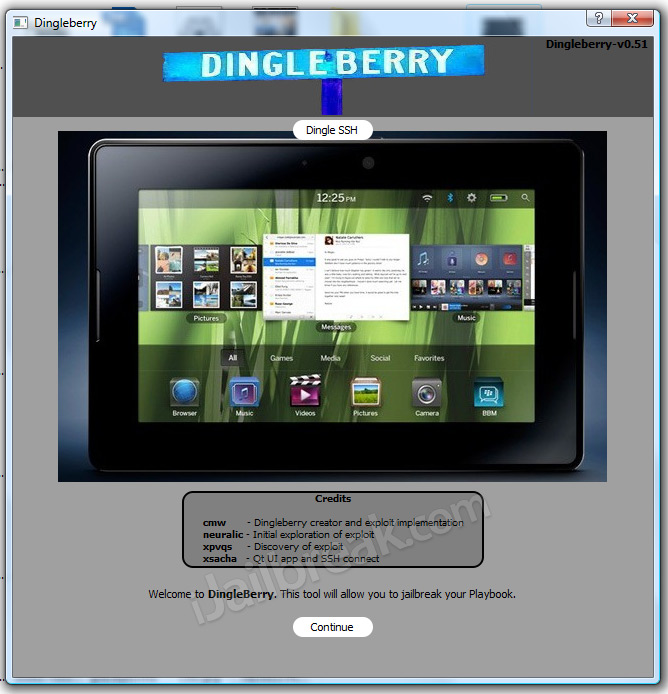 Note: At this time the DingleBerry Jailbreak will not be very useful to "Non-Developers". This is because there is currently no form of Cydia installer for the BlackBerry Playbook, and very few if any tweaks. Thus, it is recommended that only developers embark on Jailbreaking their BlackBerry Playbook.
We will keep you updated if more comes out of this BlackBerry Playbook Jailbreak. In the mean time you can download DingleBerry Beta 0.5.1 from the iJailbreak Downloads Section, or from one of the download links below:
Download DingleBerry Beta 0.5.1
Please don't forget to let us know if you have any questions or thoughts in the comments section below…