FireCore Dev-Team Release aTV Flash (Black) Version 1.2 For Apple TV 2G
The FireCore development team have recently tweeted that they have updated aTV Flash (black) to version 1.2 for the Apple TV 2G. In aTV Flash (black) 1.2 comes a variety of new features such as video-zoom, grid view watched icons, access to visited pages and so much more.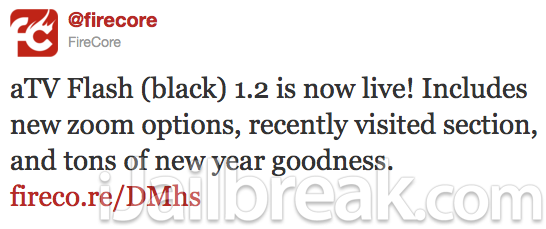 aTV Flash (black) 1.2 is a great update for the new year and is sure to impress! The most notable features present in this update can be found below…
New Zoom Options: Includes new Zoom options such as Normal, Crop and Stretch. This means you can keep videos in their native format (widescreen or pillar box) or crop/stretch them to fill the entire screen.
Grid View Watched Indicators: If you have the Grid View set you will be presented with watched indicator icons (can be disabled through Media > Settings menu if desired).
Recently Visited Pages: The Couch Surfer now displays thumbnails of the websites you have viewed in the 'top shelf' area of the main menu.
The full changelog for aTV Flash (black) 1.2 can be found in the quoted area:
Added video zoom options (available through Playback Menu)
Added watched indicators to grid view
Added 'Recently Visited' section to Browser top shelf
Added support for MicroDVD .SUB files
Added screensaver during pause
Added file delete option
Added activity indicator for metadata clearing
Added 'tune' icon placeholder for audio files without metadata
Added episode number to the fetched name the list view
Added Reload Metadata' option in contextual menu for folders
Added 'no items' message to the 'Unwatched' filter of the list view
Added gray ticket image caching
Added loading screen when opening Manage Extras menu
Improved scrubber bar logic
Improved audio feedback for watched and pre-playback screens
Improved poster loading for large folders
Improved support for DVDs without menus
Improved subtitle support for right-to-left languages (e.g. Hebrew)
Improved installer device detection
Resolved minor memory management issues
Resolved issues with subtitles settings while playing a playlist
Resolved issues with yellow subtitles displayed for movies converted with Handbrake
Resolved conflicts with default audio player
Resolved issues with passwords that contain @ symbols
Resolved issues with metadata loading for files that contain '/' in folder or file name
Resolved buffer overflow in libafpclient observed when navigating folders with long names
Resolved issues with installer Bonjour detection
Resolved rare crashes during web browsing
Changed metadata format to S.# / Ep.# for TV Shows
Disabled metadata processing during movie playback
Corrected audio feedback when pressing Menu while in grid view
Minor UI improvements
Other miscellaneous bug fixes
If you would like to download aTV Flash (black) 1.2 you will simply need to visit the official web page. Are you already running aTV Flash (black) on your Apple TV? Then you can update through the Maintenance > Manage Plugins menu. Please share any further questions or thoughts in the comments section below.
Make sure you stay subscribed through our social media feeds, so that you never miss a beat, by liking us on Facebook, following us on Twitter and joining our circle on Google+.
Hey, you! Join the iJailbreak Insider for weekly newsletters, Jailbreak alerts, contests and more. (No spam, we promise)