FireCore Dev-Team Release aTV Flash (Black) Version 1.1 For Apple TV 2G
The FireCore Development team have recently tweeted that they have updated aTV Flash (Black) to version 1.1.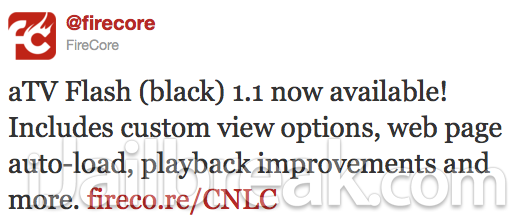 In aTV Flash (Black) v1.1 you can expect numerous improvements, including custom view options, web page auto-load, playback improvements, and a huge pile of bug fixes. You can read more about the main improvements present in aTV Flash (Black) v1.1 below:
New View Options: Generally it has been apparent that people love aTV Flash (Black)'s grid view, but there is some circumstances where a media types list may be more practical. Thus, it is now possible to set different views for specific folders. Additionally, a minor change is that you can sort by date view, which will cause the most recent media to appear at the top.
Improved Couch Surfer with Auto-Start: The Couch Surfer features has been greatly improved and not features auto-start. This feature enables the AppleTV to automatically load a 'homepage' anytime it's powered on. This allows the AppleTV to be used as a low-cost digital signage solution.
If you would like to check out the full changelog for aTV Flash (Black) v1.1, you can look below:
Added support for .IMG files
Added option to mark specific folders as grid or list view
Added subtitle position setting
Added support for larger thumbnail images
Added support for UTF-8 paths in DVD files
Added web page auto-loading feature
Added screen position setting in Couch Surfer
Added show/hide menus option
Improved audio synchronization in DVD and AVI files
Improved metadata fetching logic
Improved filenames parsing logic
Improved playlist logic that marks files as watched
Improved buffering performance
Improved ISO files handling (resolved network error warning)
Improved error handling for DVD files
Improved growl notifications display logic for audio files
Improved warning messages for unplayable files
Improved grid view stability
Improved fanart loading
Improved memory management
Improved installation routine
Improved installer device detection
Resolved issues with long DNS names
Resolved issue with extra period appearing at the end of some DNS names
Resolved crash observed when audio subsystem could not be initialized
Resolved issues with chapter handling logic
Minor UI improvements
Many other miscellaneous fixes
If you are interested in purchasing aTV Flash (Black) 1.1 for your Apple TV 2G for a price of $29.95 you can click here. Have you already purchased aTV Flash (Black)? Then you can download the new 1.1 version after logging into your account.
Let us know what you think of aTV Flash (Black) 1.1 in the comments section below…
Make sure you stay subscribed through our social media feeds, so that you never miss a beat, by liking us on Facebook, following us on Twitter and joining our circle on Google+.
Hey, you! Join the iJailbreak Insider for weekly newsletters, Jailbreak alerts, contests and more. (No spam, we promise)