With the iPhone 4S and iPad 2 being Jailbroken on the iOS 5.0 (iPhone 4S only) and the iOS 5.0.1 firmware, thanks to the Dream Team. It is no questions that the Jailbreaking Community has grown in numbers. Due to the increase in Jailbroken iOS devices and due to the fact that there are a lot of people new to the Jailbreaking scene. iJailbreak.com thought it would be a good idea to remind its readers to change their SSH (root) password to their iPhone 4S or iPad 2. Now a question I am sure you are wondering is "why would you want to change your SSH password, and what is an SSH password?"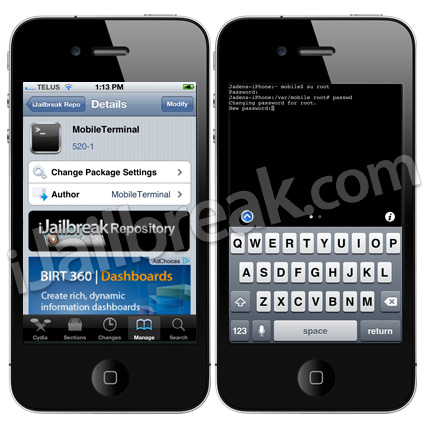 Well, when you Jailbreak your iPhone 4S/iPad, or any iOS device for that matter, you are gaining root access over the entire iOS filesystem. By default your iOS device protects itself from being tampered with by a root user using password protection. The problem is, everyone has the same root password – "alpine". Which means hackers, are free to gain full root access to your iOS device if they please (this actually happened awhile back). As this is very big threat to your security, we are going to show you how to change your iPhone 4S', iPad 2's root password on the iOS 5.0 or iOS 5.0.1 firmware.
Note: This method will work on any firmware version and any iOS device as long as you have MobileTerminal installed!
Change SSH Password iPhone 4S, iPad 2
Step 1) – The first thing you are going to need to do is install MobileTerminal to your iPhone 4S or iPad 2. As the current version of MobileTerminal in Cydia is not compatible with the iOS 5 firmware generation, you are going to need our external repository. In order to add our external repository you will need to launch Cydia and add the following source, by going into Manage > Sources > Edit > Add.
Once you have added our repo to your iPhone 4S or iPad 2, you will need to simply Search for MobileTerminal, via the search pane and install it to your iOS device.
Step 2) – When you have installed MobileTerminal to your iDevice, you can begin changing your root password. The first thing you are going to need to do is launch MobileTerminal from the SpringBoard. Once MobileTerminal is up and running you will need to enter the following commands into MobileTerminal.
1st command: su root

(press return)

2nd command: alpine

(press return)

3rd command: passwd

(press return)

Now you are going to need to type a password that you will remember (you won't see any characters displayed when you type). Once you are done press return. You will then need to re-type the password and press return once again.

4th command: exit

(press return)
Step 3) – Now that you have changed your root password to your iPhone 4S and iPad 2. One more thing you may want to do is change your mobile password, which is also by default, alpine. You can do this by following the steps below. Once again, ensure you enter the following commands exactly as shown (case sensitive).
1st command: passwd

(press return)

2nd command: alpine

(press return)

Now you are going to need to type in another password that you will remember, probably the same one you used before. (you won't see any characters displayed when you type). Once you are done press return. You will then need to then re-type the password again and press the return button.

3rd command: exit

(press return)
Congratulations! You have now just changed two passwords that prevent hackers from gaining unauthorized access to your iPhone 4S or iPad 2. If you have any questions or concerns please leave them in the comments section below…